On May 28, 2019 the US Department of Energy announced that CO2 has been unleashed to bring Freedom to the World.
Department of Energy Authorizes Additional LNG Exports from Freeport LNG
Advances commitment to U.S. jobs, economic growth, clean energy
WASHINGTON, D.C. – Today, the U.S. Department of Energy (DOE) advanced its commitment to promoting clean energy, job creation, and economic growth by approving additional exports of domestically produced natural gas from the Freeport LNG Terminal located on Quintana Island, Texas. The announcement was made at the Tenth Clean Energy Ministerial (CEM10) in Vancouver, Canada where DOE is highlighting its efforts to advance clean energy. The expansion of the Freeport LNG facility is estimated to support up to 3,000 engineering and construction jobs and hundreds of indirect jobs associated with the project.
"Increasing export capacity from the Freeport LNG project is critical to spreading freedom gas throughout the world by giving America's allies a diverse and affordable source of clean energy. Further, more exports of U.S. LNG to the world means more U.S. jobs and more domestic economic growth and cleaner air here at home and around the globe," said U.S. Under Secretary of Energy Mark W. Menezes, who highlighted the approval at the Clean Energy Ministerial in Vancouver, Canada. "There's no doubt today's announcement furthers this Administration's commitment to promoting energy security and diversity worldwide."
"Approval of additional LNG exports from Freeport LNG furthers this Administration's commitment to promoting American energy, American jobs, and the American economy. Further, increased supplies of U.S. natural gas on the world market are critical to advancing clean energy and the energy security of our allies around the globe. With the U.S. in another year of record-setting natural gas production, I am pleased that the Department of Energy is doing what it can to promote an efficient regulatory system that allows for molecules of U.S. freedom to be exported to the world," said Assistant Secretary for Fossil Energy Steven Winberg, who signed the export order and was also in attendance at the Clean Energy Ministerial.
Update May 31, 2019 Shale Gas Chemistry (Response to Genghis question)
Shale gas is natural gas trapped within tiny pore spaces in shale formations. It is a hydrocarbon gas mixture. It consists mainly of methane. Other hydrocarbons are natural gas liquids (NGLs) like ethane, propane, and butane, and it also contains carbon dioxide, nitrogen, and hydrogen sulfide.
What is done with Shale Gas?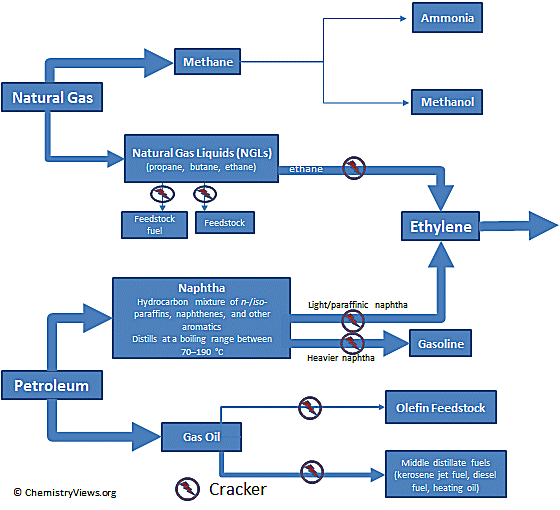 Warmists obsessed with GHG theory are concerned a little about the bit of CO2 escaping during fracking, but much more about the methane (CH4) lost in the process.  Industry is continually reducing such losses with a high economic incentive for efficiency.  Of course, the atmosphere is a methane sink which soon converts any escaping CH4 to CO2 and H20, two life-giving gases.
In sum, the Freedom to emit CO2 covers both pathways.
See Also CO2 Exonerated
Footnote:  This is not a joke!  (OK, I did invent the CO2 superhero image.)
P.S. Anti-fossil fuel activists are not amused.