In Massachusetts, four teenagers, the Conservation Law Foundation and the Mass Energy Consumer Alliance brought the climate action case to court. "The global climate change crisis is a threat to the well being of humanity, and to my generation, that has been ignored for too long," said one of the young prosecutors, Shamus Miller.
On Tuesday, the Massachusetts (MA) Supreme Court mandated the MA Department of Environmental Protection (DEP) to promote impactful climate legislation. The court deemed that the DEP failed to uphold climate change agreements outlined in the Global Warming Solutions Act of 2008 and "requires the department to promulgate regulations that establish volumetric limits on multiple greenhouse gas emissions sources, expressed in carbon dioxide equivalents, and that such limits must decline on an annual basis."
This case is in accordance with "youth around the country and internationally…bringing their governments to court to secure their rights to a healthy atmosphere and stable climate," commented Julia Olson, executive director of Our Children's Trust (an organization that helps youth fight "game-changing" legal battles around the world).Source: Planetexperts 
And who are the adults involved in  Our Children's Trust?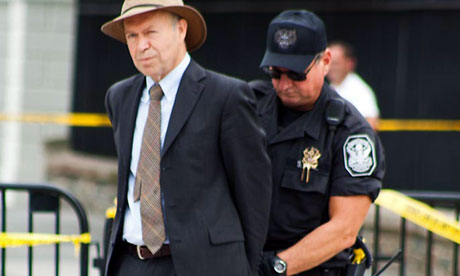 Supporting Experts (the usual suspects)
Dr. James Hansen
Dr. Ove Hoegh-Guldberg
Dr. Sivan Kartha
Dr. Pushker Kharecha
Dr. David Lobell
Dr. Arjun Makhijani
Dr. Jonathan Overpeck
Dr. Camille Parmeson
Dr. Stefan Rahmstorf
Dr. Steven Running
Dr. James Gustave Speth
Dr. Kevin Trenberth
Dr. Lise Van Susteren
Dr. Paul Epstein (1943-2011)
Etc
Campaign Partners (Allies whose funding depends on CO2 Hysteria)
Climate Reality Project,
Western Environmental Law Center,
Crag Law Center,
Texas Environmental Law Center,
Cottonwood Environmental Law Center,
WildEarth Guardians,
Clean Air Council,
Global Campaign for Climate Action,
Chasing Ice,
Environmental Law Alliance Worldwide,
TERRA,
Sierra Club,
350.org,
Climate Solutions,
Greenwatch,
Center for International Environmental Law..
Greenpeace
etc.
Conclusion
This is as obscene as brainwashing young Muslims to be suicide bombers. Or terrorists hiding among families to deter the drone strikes. The fact that the kids are willing is no excuse.
Think of the children! How will they feel a decade from now when they realize they have been duped and exploited by activists who figured judges would be more sympathetic to young believers?
Update June 24
Some addition background in response to questions from Frederick Colbourne.
Frederick, they are employing a creative approach to the "Public Trust Doctrine". From their website:
"Specifically, these court decisions have rejected many legal defenses raised by our opponents, including non-justiciability, standing, separation of powers and sovereign immunity. In support of our youths' positions, and in face of argument to the contrary, the courts have validated critical climate science and reserved for the courts the exclusive right to determine whether a particular commons resource is protected by the Public Trust Doctrine for benefit of present and future generations, and whether there has been a breach of that trust. Our cases are now progressing to the next phases where the courts will make those determinations relative to our atmosphere."
Massachusetts is ripe for this legal suit because the state passed legislation endorsing the threat of climate change and subscribing to targets for reducing emissions.
From the Court decision: "the Climate Protection and Green Economy Act, G. L. c. 21N (statute)"
"The act established a comprehensive framework to address the effects of climate change in the Commonwealth by reducing emissions to levels that scientific evidence had suggested were needed to avoid the most damaging impacts of climate change. . .In accordance with these findings, the statute requires that, by 2050, greenhouse gas emissions be reduced by at least eighty per cent below 1990 levels. G. L. c. 21N, § 3 (b)."
Note that it was Massachusetts that acted to get EPA jurisdiction over GHGs. Again from the Court decision: "See also Massachusetts v. Environmental Protection Agency, 549 U.S. 497, 505 (2007) (petition by Massachusetts, with other States, local governments, and private organizations, arguing Environmental Protection Agency abdicated responsibility under Clean Air Act to regulate emissions of four greenhouse gases, including carbon dioxide)."
This legal strategy is along the lines of "Sue and Settle" tactic employed in the past to expand the regulatory scope of the EPA. Part of this latest charade is for the state to offer a token defense so that the court requires them to do what they want to do anyways, but now armed with additional ammunition against resisters.
Note also the bait and switch: Climate change is not at issue, it is all about meeting emissions targets.  It should serve also as a cautionary tale to any jurisdiction that thinks they can pass lip-service legislation and get away with politically-correct posturing.
Footnote for those not aware of Aliases for the Usual Suspects:
James "Death Trains" Hansen
Ove "Reefer Mad" Hoegh-Guldberg
Jonathan "Water Torture" Overpeck
Camille "The Extincter" Parmeson
Stefan "No Tommorow" Rahmstorf
Kevin "Hidden Heat" Trenberth