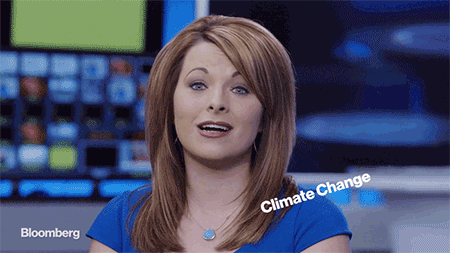 The battle by alarmists for hearts and minds is extending to many fronts, including recruiting family doctors, and in the case of this post, media weather reporters. Surveys have shown the meteorologists are not more convinced of global warming/climate change than is the American public (a slight majority). But efforts have been underway to convert them and use their telecasts and columns to promote climatism.
A balanced and analytical report appears in Bloomberg (an interesting place for such independent thinking).  Climate Evangelists Are Taking Over Your Local Weather Forecast Excerpts below.
Amber Sullins gets a minute or two to tell up to two million people about some extremely complicated science, using the tools of her trade: a pleasant voice, a green screen, and small icons denoting sun, clouds, rain, and wind. She is the chief meteorologist at ABC15 News in Phoenix, so her forecasts mostly call for sunshine. Within this brief window, however, Sullins sometimes manages to go beyond the next five days. Far beyond.
"We know climate change could affect everything about the way we live in the future, from agriculture and tourism to productivity and local business," she once noted. "But at what cost?"
It was a 35-second segment in a nightly newscast, a mundane moment preceding reports about three fallen firefighters in Washington state and a dangerous development for air travelers. But that climate-focused scene, and hundreds of others like it playing out at local news stations across the country, marks a major shift in the way Americans hear about climate change. The safe and familiar on-air meteorologist, with little notice by viewers, has become a public diplomat for global warming.
There are about 500 broadcasters like Sullins and Morales, who each receive regular data dumps and ready-to-use graphics from Climate Matters, an organization whose mission is to turn TV meteorologists into local climate educators. The program was founded in 2010 by Climate Central, a research-and-journalism nonprofit, with help from George Mason University, the American Meteorological Society, and others. Newscasters who participate are sent possible topics for climate-related segments every week, with TV-ready data and graphics pegged to large-scale meteorological events, such as unusually high heat or precipitation, local trends, or seasonal themes.
Two-thirds of 18- to 64-year-olds in the U.S. watch a news broadcast, either on TV or a digital device, at least once a week, according to 2015 research by the market research company SmithGeiger LLC. Nearly 40 percent of people within this wide age group watch broadcast news on daily basis, and the reliable presence of an on-air meteorologist is a huge part of the draw.
"Local TV news wouldn't exist any more if it weren't for the weathercasts," says Ed Maibach, director of George Mason University's Center for Climate Change Communication.
Part of meteorologists' reluctance to talk about the climate stems from the treacherous tools of their trade. Meteorologists learn very quickly that weather models are messy. Some no doubt sour on finicky climate models because of this experience. If short-term weather models make mistakes, it may seem reasonable to assume that a model projecting into the next century is ridiculous.
"Meteorologists are used to looking at models and being burned," says Paul Douglas, a former TV weatherman-turned-serial entrepreneur, who recently published a book on climate change and faith.
Sullins, 34, knows there's tension in telling her viewers about conditions in the 22nd century when she is reluctant to commit to a two-week forecast. "I can't tell you what the high temperature is going to be on July 4 of this year, today," Sullins says. "I can't possibly tell you that. But I can tell you, based on climate, that in July, here in Phoenix, it's going to be over 100 degrees. That's easy."
Her point is that weather and climate are "two entirely different beasts." It's like the difference between someone's mood and disposition, Sullins says. She wants viewers of the nightly news to spend more time thinking about the planet's disposition.
Summary
The PR campaign continues and intensifies with simplistic soundbites to persuade people to fear the future, in order to advance the anti-fossil fuel agenda. It is a Chinese water torture program well-funded and essential to the climate crisis industry.
But note the logical fallacy in Sullins' statement above. She says: "I can tell you, based on climate, that in July, here in Phoenix, it's going to be over 100 degrees." That's not climate change, that's climate stability, something we depend on despite the fear-mongering.
How will viewers respond to this?  Will ratings improve by watching weather people jumping the shark? (It didn't work for "Happy Days" TV show).  Or will people resent the attempted brainwashing and switch channels?
Footnote:
The hottest temperatures ever reported in Phoenix came in January 2015, when Fox 10 weatherman Cory McCloskey faced a malfunctioning temperature map on live television. "Wow, 750 degrees in Gila Bend right now," he said, without breaking a sweat. "And 1,270 in Ahwatukee. Now, I'm not authorized to evacuate, but this temperature seems pretty high." More than 6 million people have watched the blooper on YouTube.