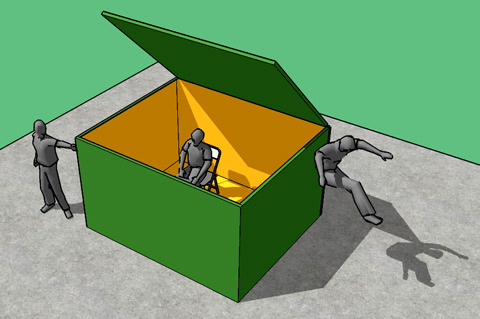 Steve Goreham has published a new primer that unmasks "sustainable development" fallacies. Outside the Green Box is previewed at Master Resource. Excerpts below:
Green Doctrine of Sustainable Development
Modern society is beset by green ideology, possibly the greatest delusion in recent history. Schools teach children that carbon dioxide is a pollutant, that polar bears are endangered, that population growth is harmful, that pesticides cause cancer, that energy use is destroying the environment, that warm climate is bad for humanity, and that crude oil is all but exhausted. Further, we can save the planet if we change our light bulbs, plant a tree, forego eating meat, and drive a Prius.
Green ideology is embodied in the doctrine of environmental sustainable development. Sustainable development contends that the growth in human population, production, consumption, and energy use over the last 200 years is "unsustainable." For 30 years, proponents of sustainable development have warned that without radical changes to modern society, our planet's environment will be destroyed, with the resultant decline of human civilization. To avoid the coming catastrophe, companies are told that they must adopt sustainable business practices
Climate Change Ideology
Over the last 30 years, climate change ideology became the core of sustainable development and the green movement. Most scientific organizations, most leading universities, most of the Fortune 500 companies, faith-based organizations, and the majority of the news media have publicly endorsed this theory.
Climatists call carbon dioxide a "dirty pollutant," call coal trains "death trains," and brand those who don't accept the ideology "climate deniers." Thousands of energy and climate laws across hundreds of nations aim to reduce CO2 emissions from transportation, industry, agriculture, and even light bulbs.
But from Chapter 5, scientific data shows that natural forces, not human emissions, dominate Earth's climate. Water vapor, not carbon dioxide or methane, is Earth's dominant greenhouse gas. Human industry contributes less than two percent to the greenhouse effect. Earth's temperatures 1,000 years ago were naturally warmer than today and have been gently cooling over the last 8,000 years.
Contrary to warnings, history shows that today's storms, floods, and droughts are neither more frequent nor more intense than in past centuries. According to satellite data, surface temperatures show no significant warming over the last eighteen years, evidence that the world's climate models are in error.
Summary
Much of government policy, academic thought, and public opinion stands on fears created and promulgated by environmental sustainable development. The philosophy that humans are too many, too polluting, climate destroying, and profligate wasters of natural resources holds today's society in a powerful psychological grip. Thousands of energy and environmental laws are justified on these misconceptions.
Energy consumption is not a villain. Nations that consume the most energy per person discharge the lowest level of air and water pollutants per person. Low-cost energy provides economic growth and generates capital for pollution control. Carbon dioxide is not a pollutant. Hundreds of peer-reviewed studies show that increased levels of CO2 result in faster and larger plant growth. The recent rise in atmospheric CO2 is actually greening the Earth.
Steve Goreham is a speaker, author, and researcher of environmental issues and public policy. He holds an MBA from the University of Chicago and a BS/MS in Electrical Engineering from the University of Illinois. More at his website stevegoreham.com.  For example, he provides a synopsis of Climate Facts including these topics:
Temperature in Perspective
The Greenhouse Effect
Icecap Melting and Sea Level Rise?
Stronger Hurricanes and Storms?
Droughts and Floods?
Polar Bear Extinction?
Heat Waves?