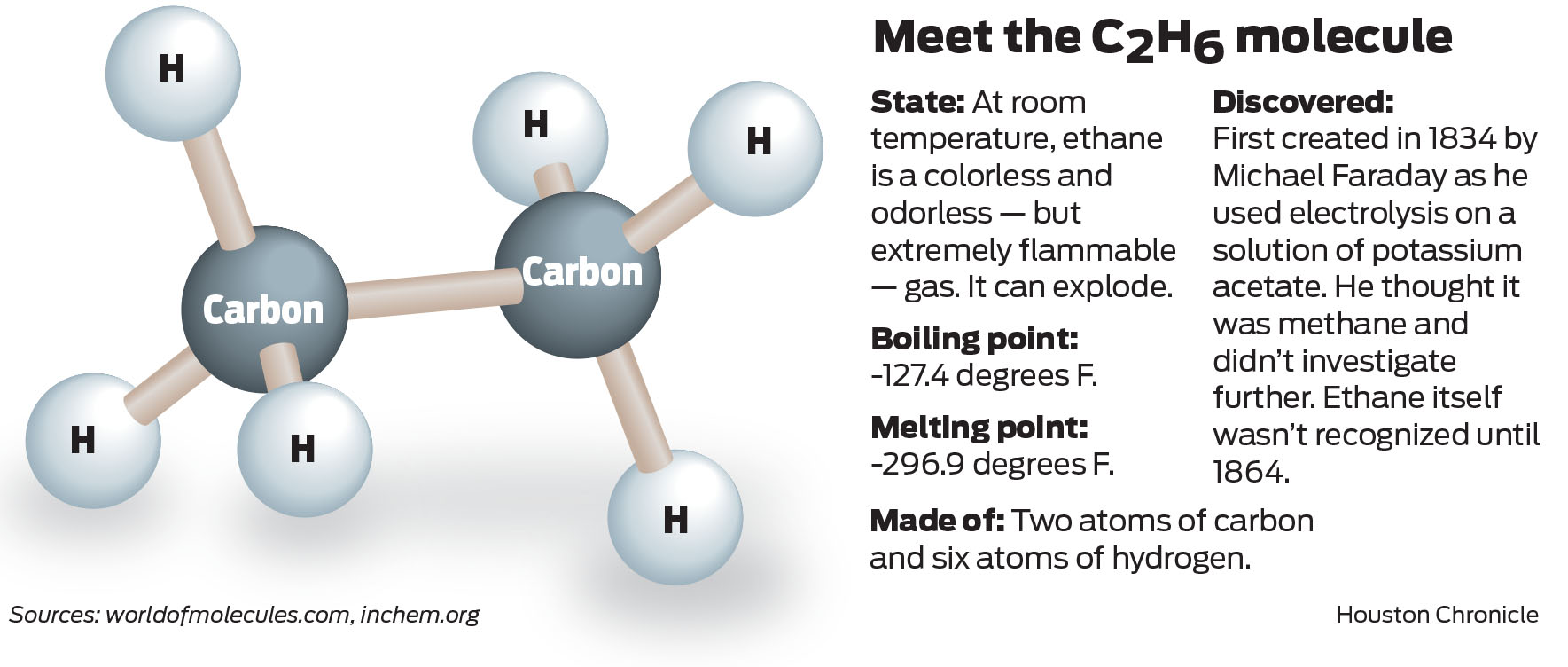 Many of us know of methane (CH4, AKA natural gas), but overlooked in the current drilling revolution is ethane (C2H6) which is quietly transforming the world of energy. The story comes appropriately from the Houston Chronicle (H/T Master Resource). Jordan Blum writes How the ethane molecule changed the Gulf Coast — and the world Excerpts in italics with my bolds.
Overview
Ethane is simply described as C2H6. But that molecule, a byproduct of natural gas, has triggered a petrochemical boom that is reshaping the Gulf Coast, the energy industry that lives here, and global markets for plastics, resins and other petrochemicals.
We followed that molecule from a Texas shale field where it is found, to the petrochemical plant where it is transformed into ethylene, the basic building block of most plastics, and to the Port of Houston, where it is shipped to Asia and other emerging consumer markets.
The impact of ethane is perhaps the most remarkable development in the remarkable story of the shale revolution. Less than three years ago, ethane was a largely unwanted byproduct of oil and gas drilling, much of it burned away in the natural gas stream flowing to power plants, businesses and homes, or flared off at well sites.
But today, ethane is feedstock for nearly half of U.S. plastics production and a valuable export to chemical companies around the world. As ethane flows from Texas shale fields, chemical and energy companies are building and expanding plants to take advantage of the cheap, plentiful raw material, plowing more than $140 billion into the Gulf Coast alone.
"It's absolutely extraordinary this is happening in the United States," said Neil Chapman, Exxon Mobil senior vice president. "I can assure you nobody predicted this in 2000 or even 2005."
U.S. ethane production is projected to reach 2 million barrels a day by 2020, double the output at the height of the last drilling boom in 2014. On the journey from wellhead to market, ethane molecules will change forms several times as they are separated from natural gas, heated to become ethylene, processed into polyethylene, and ultimately extruded and molded into packaging and products that will appear on shelves in stores from Houston to Mumbai and Ho Chi Minh City.
The shale revolution is widely credited to the innovation and determination of one man, the late George P. Mitchell, son of a Greek immigrant and founder of The Woodlands. Mitchell, after striking it rich in oil, spent 35 years stubbornly focused on developing the Barnett Shale near Dallas, a play known for years as the "Wildcatters Graveyard."
Mitchell, however, persisted, eventually combining hydraulic fracturing with horizontal drilling to unlock the complex shale rock. Mitchell didn't frack his first profitable well until 1998, but with that success, he sold his company four years later for more than $3 billion to Devon Energy of Oklahoma City.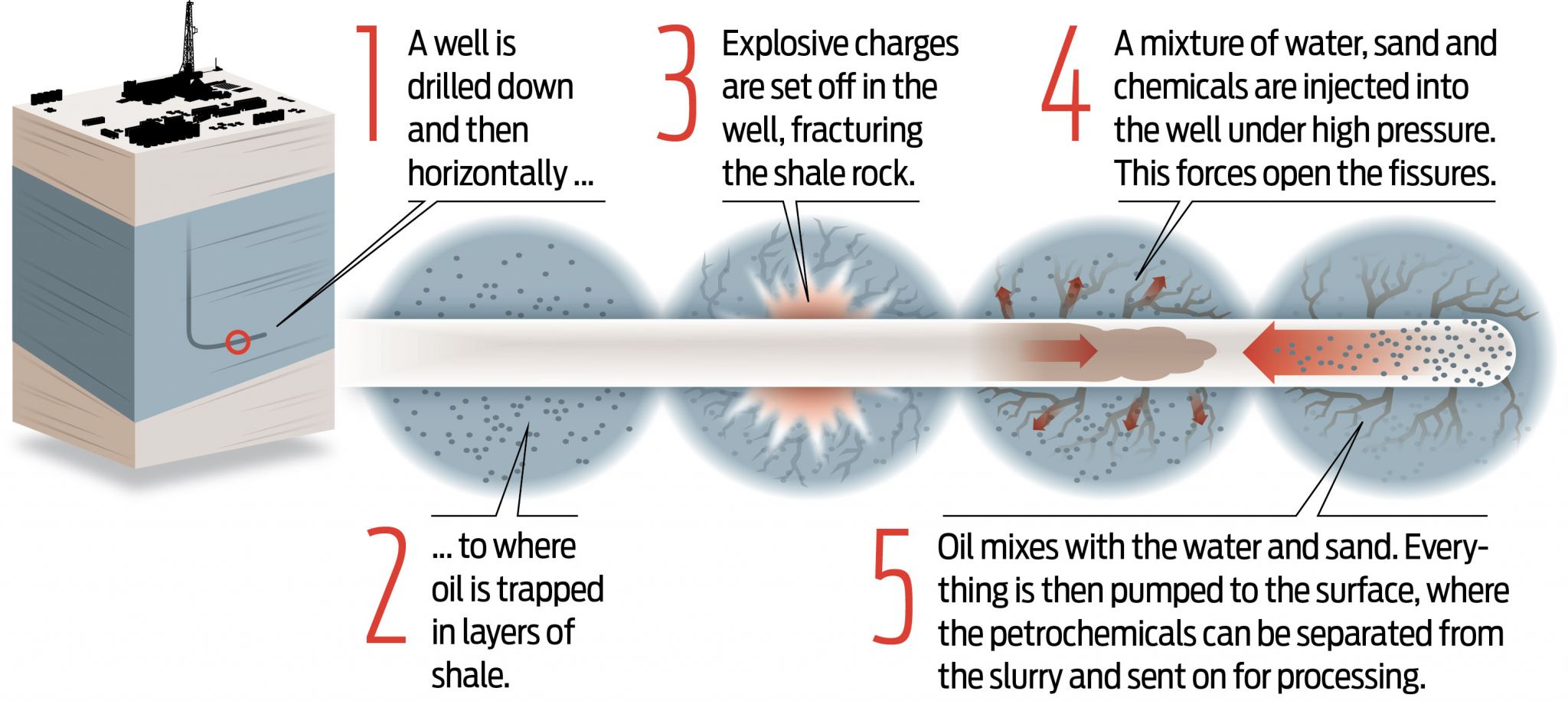 The shale boom was soon underway, producing oil and gas from Texas to North Dakota to the Northeast. It placed the United States among the world's biggest energy producers, roiling global markets and upending more than 40 years of geopolitics.
And along with oil and gas came large volumes of another petroleum product known as natural gas liquids.
Three primary components can come out any successful well: crude oil, natural gas, which is essentially methane, and natural gas liquids, primarily ethane, butane and propane. Ethane is the most prevalent natural gas liquid, or NGL, and used solely as a feedstock for petrochemicals.

Mont Belvieu is built atop a salt dome formed more than 100 million years ago from deposits likely left by an ancient inland sea that cut across the North American continent. For more than 60 years, energy companies have used it as a natural storage tank, carving out salt caverns some 3,000 feet deep to hold millions of barrels of petroleum products.
Today, those caverns are increasingly filled with ethane and other natural gas liquids that feed the plastics and chemical industries, making Mont Belvieu and its neighbor to the south, Baytown, the focal point of the Gulf Coast petrochemical boom. Here, where rice fields once stretched as far as the eye could see, Exxon Mobil alone has invested some $6 billion to dramatically expand its 36-year-old plastics plant as well as its sprawling refining and chemicals complex in Baytown.
At these plants, the ethane molecules that squeezed through fissures in shale rock, flowed up a Texas well and traveled more than 150 miles by pipeline, will undergo chemical changes to transform them from once-overlooked byproducts of oil and gas drilling into one of most ubiquitous materials on earth. Hundreds of other pipelines stretching across Texas and beyond will carry millions more barrels of natural gas liquids from U.S. shale fields, converging near the salt dome under Mont Belvieu's Barbers Hill.
This is the next stop for the natural gas liquids produced by Exxon's subsidiary XTO Energy. Here, processing plants known as fractionators use varying pressures and temperatures to break the natural gas liquids into components, each with a slightly different combination of carbon and hydrogen, including butane (C4H10), propane (C3H8), pentane (C5H12) and, of course, ethane (C2H6).
The ethane is piped 10 miles to Exxon Mobil's Baytown complex, which is simultaneously one of the nation's oldest and most modern plants. The refinery was built nearly a century ago by one of Exxon Mobil's predecessor companies, Humble Oil. A chemical plant was added in 1979 and expanded in 1997.
The focus of the Baytown expansion was eight furnaces, each costing more than $100 million and standing 23 stories tall — nearly the height of NRG Stadium. The furnaces, built in Thailand, are the heart of a plant known as a cracker, which gets its name from the process that uses extreme heat to crack ethane molecules in half and trigger chemical reactions that form ethylene.
The ethylene is piped back to Mont Belvieu, where some will be stored in the salt caverns, but most will feed another process that will change the hydrocarbons liberated from Texas shale once again.
Where the Baytown complex used heat and pressure to crack ethane into ethylene, Exxon Mobil's Mont Belvieu plant relies on chemical reactions to fuse trillions of ethylene molecules into polyethylene.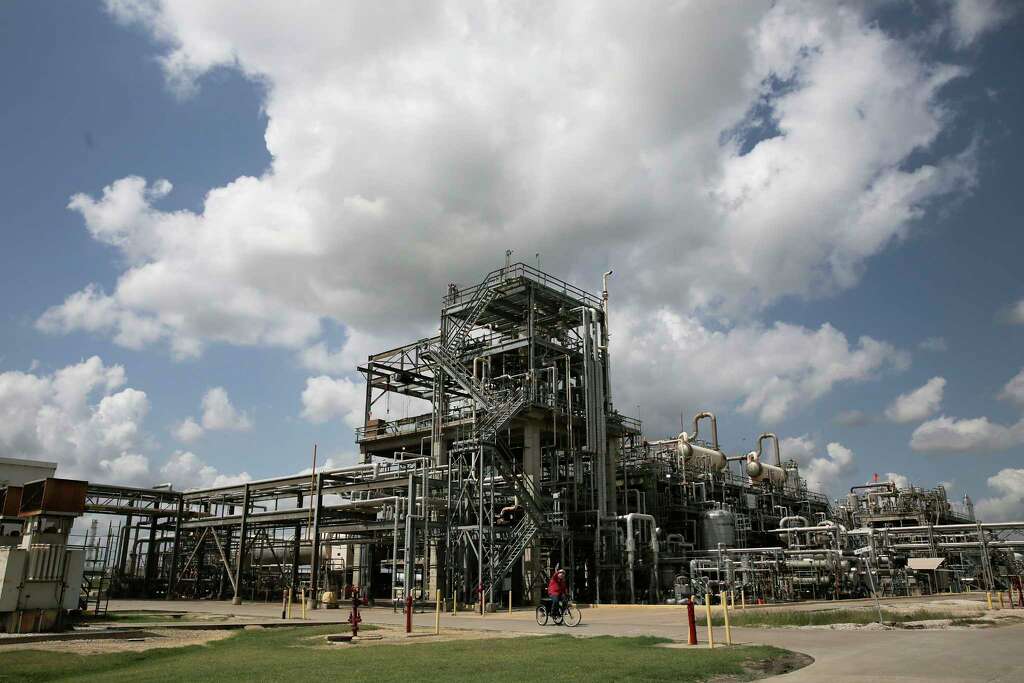 The Mont Belvieu plant opened in 1982, producing mainly low-grade, flexible polyethylene used in plastic wrap and food packaging, and expanded nine years later to produce plastic for more rigid products, such as milk bottles. The most recent expansion, completed late last year, is dedicated to high-performance polyethylene that is light, flexible and strong.
After quality testing, the plastic is loaded into as many as 35 rail cars, each holding about 200,000 pounds of polyethylene pellets, and shipped throughout the country to customers who shape the polyethylene pellets into finished plastics products. About 40 percent of the polyethylene is made for the domestic market.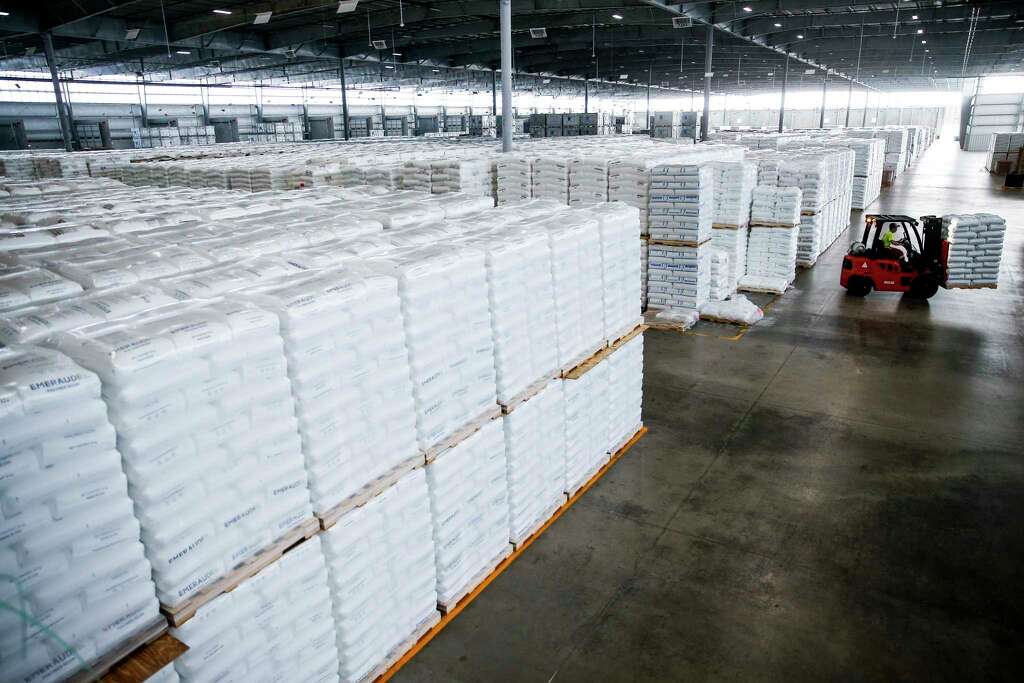 Polyethylene pellets marked for export are mechanically packaged in 55-pound bags, each holding about 1 million pellets. Every hour, the plant fills about 10,000 bags, which are loaded onto pallets, each holding 55 bags, and trucked to a 70-acre storage yard. As many as 100,000 pallets are kept for up to 45 days until they can be loaded into containers and shipped out of the Port of Houston.
The Baytown and Mount Belvieu plants together employ 7,500 people, and Exxon Mobil estimates that the number doubles to 15,000 when counting contractors and jobs at local suppliers, restaurants and other businesses that support the plant. Exxon pays more than $150 million a year in local taxes and fees.
The plants also have contributed to a surge in exports that has made Houston one of few regions in the country that exports more than it imports. That brings new money into the area — tens of billions of dollars that can be used to expand business, hire workers and increase wealth.
"We're going to have things that are made in America again and getting shipped overseas," Fritsch said. "That's what's exciting about shale gas. It's the explosion of industry again in the U.S."