Sen. Mike Lee mocks Green New Deal in speech featuring tauntauns, giant sea horses and babies is an article at KSL.com.  A video clip is above to appreciate his standup delivery.  Text from the speech is reprinted below in italics with my bolds.
Sen. Mike Lee offered what he considers a serious solution to climate change Tuesday in an often flippant speech about the Green New Deal on the Senate floor: babies.
The Utah Republican mocked the Democratic proposal with images of a machine-gun wielding Ronald Reagan riding a dinosaur, tauntauns from "Star Wars," Gov. Gary Herbert fending off sharks with a tennis racket, and Hawaiians on giant sea horses — not to mention some bad puns.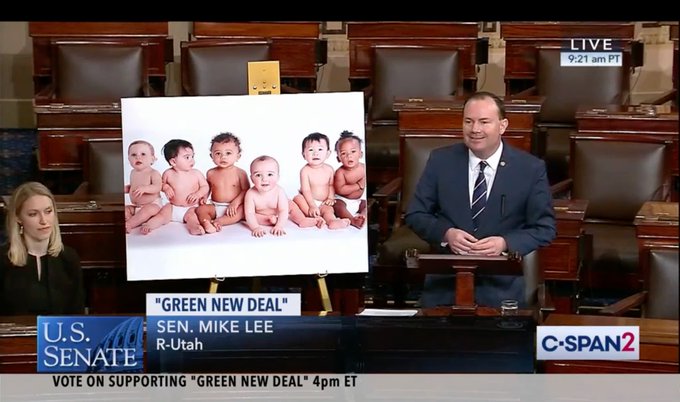 "The solution to climate change is not this unserious resolution that we're considering this week in the Senate, but the serious business of human flourishing — the solution to so many of our problems, at all times and in all places, is to fall in love, get married and have some kids," Lee said.
His speech came ahead of a failed vote in the Senate to begin debate on a sweeping resolution to combat climate change called the Green New Deal. Freshman Rep. Alexandria Ocasio-Cortez,-D, N.Y., and Sen. Ed Markey, D-Mass., introduced the legislation.
Lee said problems of human imagination are not solved by more laws, but by more humans.
"More babies will mean more forward-looking adults, the sort we need to tackle long-term, large-scale problems," he said. "American babies, in particular, are likely going to be wealthier, better educated, and more conservation-minded than children raised in still-industrializing countries."
Lee said the plan essentially calls for the elimination of all airplanes and all cows.
Without airplanes, how would people get around the vast expanses of Alaska?  Tauntauns, Lee said, showing a picture of Luke Skywalker aboard one of the fictional snow lizards found roaming the wintry, windswept plains of Hoth.
"Not only are tauntauns carbon-neutral, but according to one report 'a long time ago' and 'far, far away,' they may even be fully recyclable for their warmth on especially cold nights," Lee said, referencing a scene in "Star Wars: The Empire Strikes Back" where Han Solo slices open the beast with his lightsaber so a hypothermic Luke Skywalker can crawl inside.
Unable to fly, Hawaiians, Lee said, would have to ride giant sea horses to reach the mainland. "Under the Green New Deal, this is probably Hawaii's best bet," he said.
"But honestly, I think you've got to remember if they think the cows smell bad, just wait 'til they get a whiff of the sea horses," he said.
Reducing the nation's 94 million cows to zero means no more milk, cheese, steak or hamburgers, he said.
"Over the state work period last week, I visited some farms to find out for myself what Utah's own bovine community thinks of the Green New Deal," Lee said.
"Every cow I talked to said the same thing: 'Boo.'"
Climate change hit home in Utah when sharks crashed through the window in Herbert's state Capitol office in the made-for-TV flick "Sharknado: The 4th Awakens," Lee said.
Displaying a painting depicting the climactic battle of the Cold War with Reagan packing a machine gun and a rocket launcher while riding atop a dinosaur with the American flag in the background, Lee said there was no such fight. The Cold War, he said, was won without firing a shot.
The image has as much to do with overcoming Soviet communism in the 20th century as the Green New Deal has to do with overcoming climate change in the 21st century, he said.
"The aspirations of the proposal have been called radical and extreme," Lee said. "But mostly they are ridiculous."