Rod Dreher writes at American Conservative about the chasm opening and dividing the previous United States.  His article is titled Joe Rogan World Vs. NPR World, but those words don't reveal the importance or depth of his insights.   He starts with a familiar experience of hearing newscasting perverted by an agenda.  Excerpts in italics with my bolds.  
Yesterday when I drove up to the country to visit my mother, I listened to NPR until I couldn't take it anymore. There was a story about black Mormons. Normally I would have found that compelling, given my interest in religion. The Mormon religion used to be formally racist, but changed its teaching. What is it like to live as a black Mormon? That's a story that interests me. Or normally would, but I swear, I turned off the radio. Why?
It had nothing to do with the black Mormons. It had to do with NPR. I thought: they're only interested in Mormons so they can find some new way to talk about American racism.
It feels like every time I get in the car and turn on the radio, I don't have to wait long before I hear a story that highlights in some new way what a racist country America is, or how hard illegal immigrants have it in America, or how put-upon sexual minorities are, and so forth. I don't know if NPR's liberalism has always been like this, or if it has gotten worse — or if I have simply become thin-skinned about these issues. I have always known NPR was liberal, but that didn't stop me from being a big fan, and even a contributing member. I feel that my NPR — the NPR that I cherished, even though it was liberal and I am conservative — has gone away, and I don't know why. I used to love listening to it in the car, and not conservative talk radio, because I don't want to have a voice on the radio rubbing my nose into some political narrative. NPR used to stand out because it proposed new ways of seeing the world, or at least ways that seemed new to me as a conservative. Now listening to NPR is giving oneself over to hosts who seek to impose a worldview that constantly says, about people who don't fit the progressive narrative, that you aren't worthy of our consideration or attention. That you are what's wrong with America.
I don't mean to beat up NPR alone. I have the same experience reading The New York Times. Most conservatives I know don't listen to NPR or read the Times, and could not care less about them. They assume that NPR and the NYT hate them, so they have no agony over failed expectations. But I have been listening to NPR and reading the NYT long enough to know that something has changed with those two institutions — again, institutions that I've always known were liberal, but loved anyway. If I had never learned to care about them, I wouldn't get so wound up about it now.
That, and the fact that those institutions are such important bellwethers of elite opinion. You may not care what's in the Times or on NPR, but the people who do are those who ultimately control a lot of things in your life. Never, ever forget the lessons in these two passages from Live Not By Lies:
It's possible to miss the onslaught of totalitarianism, precisely because we have a misunderstanding of how its power works. In 1951, poet and literary critic Czesław Miłosz, exiled to the West from his native Poland as an anti-communist dissident, wrote that Western people misunderstand the nature of communism because they think of it only in terms of "might and coercion."
"That is wrong," he wrote. "There is an internal longing for harmony and happiness that lies deeper than ordinary fear or the desire to escape misery or physical destruction."
In The Captive Mind, Miłosz said that communist ideology filled a void that had opened in the lives of early twentieth-century intellectuals, most of whom had ceased to believe in religion.
This is why NPR sounds like Vatican Radio from the Church of Secular Progressivism, and this is why The New York Times reads like L'Osservatore Romano of the same pseudo-religion. More from Live Not By Lies:
In our populist era, politicians and talk-radio polemicists can rile up a crowd by denouncing elites. Nevertheless, in most societies, intellectual and cultural elites determine its long-term direction. "[T]he key actor in history is not individual genius but rather the network and the new institutions that are created out of those networks," writes sociologist James Davison Hunter.
Though a revolutionary idea might emerge from the masses, says Hunter, "it does not gain traction until it is embraced and propagated by elites" working through their "well-developed networks and powerful institutions."
This is why it is critically important to keep an eye on intellectual discourse. Those who do not will leave the gates unguarded. As the Polish dissident and émigré Czesław Miłosz put it, "It was only toward the middle of the twentieth century that the inhabitants of many European countries came, in general unpleasantly, to the realization that their fate could be influenced directly by intricate and abstruse books of philosophy."
This is how Your Working Boy gets from, "Black Mormons — hey, that's interesting. I'd like to know more about what they went through" — which would be my stance in normal times — to "Black Mormons? Just one more NPR story about what a racist, oppressive, worthless country this is" to
"NPR continues to tell the elites a narrative that they will use to tear this country down and rebuild it according to their ideological values."
All of that is prelude to Douglas Murray's recent piece in Unherd, in which he observes that America really does look like a country that is coming apart, because it lacks a shared story. Excerpts:
But while it's certainly arguable that Trump has aggravated America's problems and divisions, he certainly didn't create them. The divide long pre-dates him and has grown and grown in recent years, to the point where the different parties look increasingly irreconcilable. That is because these divisions go right to the core of what it means to be American.
When Eric Kaufmann recently carried out opinion polls on self-described "liberals" in the US, the results were startling but not surprising. For instance, around 80% of respondents said that they would approve of the writing of a new American constitution "that better reflects our diversity as a people". A similar number said that they would approve of a new national anthem and flag, for the same reason.
And over the last few months, some of the more activist section of the American "liberal" tribe have taken matters into their own hands, with statues pulled down across the country, not just of Confederate generals or people associated with the divisive elements of American history, but men who once united the American public. Who once represented and defined their shared history as a great nation.
When statues of Thomas Jefferson and George Washington are pulled down, this no longer looks like a critique of certain aspects of American culture: it looks like an attack on the American Founding story. When senior Democrats like Tammy Duckworth — who has served in her country's military — refuse to condemn attacks on statues of the Founding Fathers it becomes clear that this attitude is not confined to some street-protest fringes.
More:
It is becoming harder to communicate across the gulf, as, increasingly, the two Americas cannot consort or discuss with each other. And if there is one reason above all why that should be the case it is because they no longer have a shared story.
A portion of the American people still revere their history, the Founding Fathers, the constitution, flag, anthem and much more. They see it as symbols of a glorious past, a country which has fought for its own and others' liberty, and the once-admired idea of American exceptionalism.
Another portion believe that America is exceptional only in being exceptionally bad. Rather than thinking well of their country or their forebears they see the whole American experiment as unusually unfair and uncommonly unequal.
What's more, I am associated, via my writing here and in The Benedict Option, with a pessimistic view of our liberal democracy's sustainability. I think that Patrick Deneen is basically correct in his Why Liberalism Failed: it failed because it succeeded so very well in creating a hyper-individualist society.
Liberal democracy cannot work without a metastory to set its boundaries.
We had that story when America was more or less Christian, but we are now moving out of the secularized Christianity of the Enlightenment, and into Nietzsche's dark prophecy of what would happen once we realized that we have killed God. There will be no clinging to Christian morality, with its claims of human rights, without the Christian god.
What we have, with the woke, is a pseudo-religion that tries to ape Christianity without Christianity's sense of mercy, and without its tragic awareness that, in Solzhenitsyn's memorable phrase, the line between good and evil passes not between peoples, classes, and nations, but down the middle of every human heart.
See Also:  Democracy in Peril
The most basic thing one needs to know about a democratic regime, then, is this: You need to have at least two legitimate political parties for democracy to work. By a legitimate political party, I mean one that is recognized by its rivals as having a right to rule if it wins an election. For example, a liberal party may grant legitimacy to a conservative party (even though they don't like them much), and in return this conservative party may grant legitimacy to a liberal party (even though they don't like them much). Indeed, this is the way most modern democratic nations have been governed.
But legitimacy is one of those traditional political concepts that Marxist criticism is now on the verge of destroying.
From the Marxist point of view, our inherited concept of legitimacy is nothing more than an instrument the ruling classes use to perpetuate injustice and oppression. The word legitimacy takes on its true meaning only with reference to the oppressed classes or groups that the Marxist sees as the sole legitimate rulers of the nation. In other words, Marxist political theory confers legitimacy on only one political party—the party of the oppressed, whose aim is the revolutionary reconstitution of society. And this means that the Marxist political framework cannot co-exist with democratic government. Indeed, the entire purpose of democratic government, with its plurality of legitimate parties, is to avoid the violent reconstitution of society that Marxist political theory regards as the only reasonable aim of politics.
Simply put, the Marxist framework and democratic political theory are opposed to one another in principle.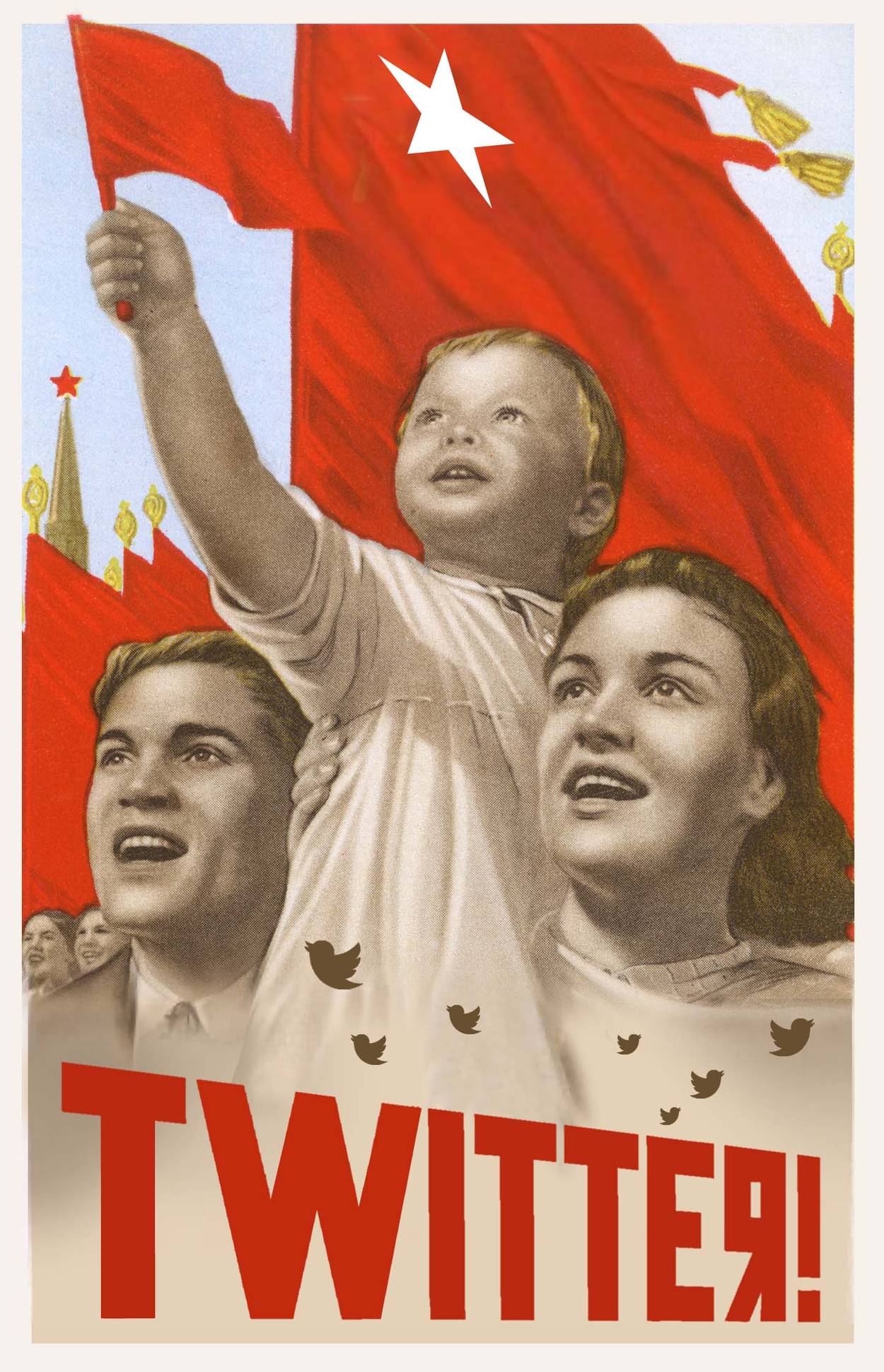 Background from a previous post, American Soviet Mentality
Izabella Tabarovsky draws on her experience of Soviet Russia to expose the cultural revolution currently attacking the roots of American civil society.  Her article at the Tablet is The American Soviet Mentality. Excerpts in italics with my bolds.
Collective demonization invades our culture
Russians are fond of quoting Sergei Dovlatov, a dissident Soviet writer who emigrated to the United States in 1979: "We continuously curse Comrade Stalin, and, naturally, with good reason. And yet I want to ask: who wrote four million denunciations?" It wasn't the fearsome heads of Soviet secret police who did that, he said. It was ordinary people.
Collective demonizations of prominent cultural figures were an integral part of the Soviet culture of denunciation that pervaded every workplace and apartment building. Perhaps the most famous such episode began on Oct. 23, 1958, when the Nobel committee informed Soviet writer Boris Pasternak that he had been selected for the Nobel Prize in literature—and plunged the writer's life into hell. Ever since Pasternak's Doctor Zhivago had been first published the previous year (in Italy, since the writer could not publish it at home) the Communist Party and the Soviet literary establishment had their knives out for him. To the establishment, the Nobel Prize added insult to grave injury.
None of those who joined the chorus of condemnation, naturally, had read the novel—it would not be formally published in the USSR until 30 years later. But that did not stop them from mouthing the made-up charges leveled against the writer. It was during that campaign that the Soviet catchphrase "ne chital, no osuzhdayu"—"didn't read, but disapprove"—was born: Pasternak's accusers had coined it to protect themselves against suspicions of having come in contact with the seditious material. Days after accepting the Nobel Prize, Pasternak was forced to decline it. Yet demonization continued unabated.
Some of the greatest names in Soviet culture became targets of collective condemnations—composers Dmitry Shostakovich and Sergei Prokofiev; writers Anna Akhmatova and Iosif Brodsky; and many others. Bouts of hounding could go on for months and years, destroying people's lives, health and, undoubtedly, ability to create. (The brutal onslaught undermined Pasternak's health. He died from lung cancer a year and a half later.) But the practice wasn't reserved for the greats alone. Factories, universities, schools, and research institutes were all suitable venues for collectively raking over the coals a hapless, ideologically ungrounded colleague who, say, failed to show up for the "voluntary-obligatory," as a Soviet cliché went, Saturday cleanups at a local park, or a scientist who wanted to emigrate. The system also demanded expressions of collective condemnations with regards to various political matters: machinations of imperialism and reactionary forces, Israeli aggression against peaceful Arab states, the anti-Soviet international Zionist conspiracy. It was simply part of life.
Twitter has been used as a platform for exercises in unanimous condemnation
for as long as it has existed.
Countless careers and lives have been ruined as outraged mobs have descended on people whose social media gaffes or old teenage behavior were held up to public scorn and judged to be deplorable and unforgivable. But it wasn't until the past couple of weeks that the similarity of our current culture with the Soviet practice of collective hounding presented itself to me with such stark clarity. Perhaps it was the specific professions and the cultural institutions involved—and the specific acts of writers banding together to abuse and cancel their colleagues—that brought that sordid history back.
On June 3, The New York Times published an opinion piece that much of its progressive staff found offensive and dangerous. (The author, Republican Sen. Tom Cotton, had called to send in the military to curb the violence and looting that accompanied the nationwide protests against the killing of George Floyd.) The targets of their unanimous condemnation, which was gleefully joined by the Twitter proletariat, which took pleasure in helping the once-august newspaper shred itself to pieces in public, were New York Times' opinion section editor James Bennet, who had ultimate authority for publishing the piece, though he hadn't supervised its editing, and op-ed staff editor and writer Bari Weiss (a former Tablet staffer).
Weiss had nothing to do with editing or publishing the piece. On June 4, however, she posted a Twitter thread characterizing the internal turmoil at the Times as a "civil war" between the "(mostly young) wokes" who "call themselves liberals and progressives" and the "(mostly 40+) liberals" who adhere to "the principles of civil libertarianism." She attributed the behavior of the "wokes" to their "safetyism" worldview, in which "the right of people to feel emotionally and psychologically safe trumps what were previously considered core liberal values, like free speech."  See Update: Stories vs. Facts
It was just one journalist's opinion, but to Weiss' colleagues her semi-unflattering description of the split felt like an intolerable attack against the collective. Although Weiss did not name anyone in either the "woke" or the older "liberal" camp, her younger colleagues felt collectively attacked and slandered. They lashed out. Pretty soon, Weiss was trending on Twitter.
As the mob's fury kicked into high gear, the language of collective outrage grew increasingly strident, even violent.
Goldie Taylor, writer and editor-at-large at The Daily Beast, queried in a since-deleted tweet why Weiss "still got her teeth." With heads rolling at the Times—James Bennet resigned, and deputy editorial page editor James Dao was reassigned to the newsroom—one member of the staff asked for Weiss to be fired for having bad-mouthed "her younger newsroom colleagues" and insulted "all of our foreign correspondents who have actually reported from civil wars." (It was unclear how she did that, other than having used the phrase "civil war" as a metaphor.)
Mehdi Hasan, a columnist with the Intercept, opined to his 880,000 Twitter followers that it would be strange if Weiss retained her job now that Bennet had been removed. He suggested that her thread had "mocked" her nonwhite colleagues. (It did not.) In a follow-up tweet Hasan went further, suggesting that to defend Weiss would make one a bad anti-racist—a threat based on a deeply manipulated interpretation of Weiss' post, yet powerful enough to stop his followers from making the mistake.
All of us who came out of the Soviet system bear scars of the practice of unanimous condemnation, whether we ourselves had been targets or participants in it or not. It is partly why Soviet immigrants are often so averse to any expressions of collectivism: We have seen its ugliest expressions in our own lives and our friends' and families' lives. It is impossible to read the chastising remarks of Soviet writers, for whom Pasternak had been a friend and a mentor, without a sense of deep shame. Shame over the perfidy and lack of decency on display. Shame at the misrepresentations and perversions of truth. Shame at the virtue signaling and the closing of rank. Shame over the momentary and, we now know, fleeting triumph of mediocrity over talent.
In a collectivist culture, one hoped-for result of group condemnations is control—both over the target of abuse and the broader society. When sufficiently broad levels of society realize that the price of nonconformity is being publicly humiliated, expelled from the community of "people of goodwill" (another Soviet cliché) and cut off from sources of income, the powers that be need to work less hard to enforce the rules.
For the regular people—those outside prestigious cultural institutions—participation in local versions of collective hounding was not without its benefits, either. It could be an opportunity to eliminate a personal enemy or someone who was more successful and, perhaps, occupied a position you craved. You could join in condemning a neighbor at your cramped communal flat, calculating that once she was gone, you could add some precious extra square meters to your living space.
The mobs that perform the unanimous condemnation rituals of today do not follow orders from above. But that does not diminish their power to exert pressure on those under their influence.
Those of us who came out of the collectivist Soviet culture understand these dynamics instinctively. You invoked the "didn't read, but disapprove" mantra not only to protect yourself from suspicions about your reading choices but also to communicate an eagerness to be part of the kollektiv—no matter what destructive action was next on the kollektiv's agenda. You preemptively surrendered your personal agency in order to be in unison with the group. And this is understandable in a way: Merging with the crowd feels much better than standing alone.
Americans have discovered the way in which fear of collective disapproval breeds self-censorship and silence, which impoverish public life and creative work. The double life one ends up leading—one where there is a growing gap between one's public and private selves—eventually begins to feel oppressive. For a significant portion of Soviet intelligentsia (artists, doctors, scientists), the burden of leading this double life played an important role in their deciding to emigrate.
Those who join in the hounding face their own hazards. The more loyalty you pledge to a group that expects you to participate in rituals of collective demonization, the more it will ask of you and the more you, too, will feel controlled. How much of your own autonomy as a thinking, feeling person are you willing to sacrifice to the collective? What inner compromises are you willing to make for the sake of being part of the group? Which personal relationships are you willing to give up?
From my vantage point, this cultural moment in these United States feels incredibly precarious.
The practice of collective condemnation feels like an assertion of a culture that ultimately tramples on the individual and creates an oppressive society. Whether that society looks like Soviet Russia, or Orwell's Nineteen Eighty-Four, or Castro's Cuba, or today's China, or something uniquely 21st-century American, the failure of institutions and individuals to stand up to mob rule is no longer an option we can afford.
Comment:  Precarious, indeed.  For Background, See Patriotism vs. Multiculturalism