Arctic ice extent changes for the last two weeks are shown in the MASIE animation above. Note that the Pacific basins of Bering and Okhotsk (upper left) melted dramatically.  Meanwhile on the Atlantic side ice persisted, actually growing in Barents and Greenland seas.
The strangeness concerns weirdness in Google Earth Pro treatment of kmz files from MASIE.  Previous I have used these to produce animations like the one below for the month of March.
Today when attempting to do the same for April, this is what was shown.
That is a screen capture since Google Earth could not render an image.  I hope it is just a temporary technical difficulty.  But I can't help but imagine this depicting some kind of military map with a two-pronged attack by red forces with a single resisting force in red and blue. Is it more virtuous canceling of all things Russian at the expense of scientific inquiry? (The mask with colors was only imposed on the Northern Hemisphere)
The melting effect on NH total ice extents during April is presented in the graph below.
The graph above shows ice extent through April comparing 2022 MASIE reports with the 16-year average, other recent years and with SII.  On average ice extents lost 1.1M km2 during April.  2022 ice extents started slightly lower, then tracked average, ending slightly above average. Both 2021 and 2007 ended  below average, by 200k km2 and 400k km2 respectively. The two green lines at the bottom show average and 2022 extents when Bering and Okhotsk ice are excluded.  On this basis 2022 Arctic was nearly 400k km2 in surplus at end of April.
| | | | | | |
| --- | --- | --- | --- | --- | --- |
| Region | 2022120 | Day 120 Average | 2022-Ave. | 2007120 | 2022-2007 |
|  (0) Northern_Hemisphere | 13623874 | 13507670  | 116204  | 13108068 | 515806  |
|  (1) Beaufort_Sea | 1070776 | 1067739  | 3036  | 1059189 | 11587  |
|  (2) Chukchi_Sea | 963424 | 955654  | 7770  | 949246 | 14178  |
|  (3) East_Siberian_Sea | 1087137 | 1085485  | 1652  | 1080176 | 6961  |
|  (4) Laptev_Sea | 897845 | 889961  | 7884  | 875661 | 22184  |
|  (5) Kara_Sea | 932842 | 911757  | 21084  | 864664 | 68178  |
|  (6) Barents_Sea | 654813 | 547685  | 107129  | 396544 | 258270  |
|  (7) Greenland_Sea | 777073 | 640123  | 136950  | 644438 | 132635  |
|  (8) Baffin_Bay_Gulf_of_St._Lawrence | 1243689 | 1205315  | 38374  | 1147115 | 96574  |
|  (9) Canadian_Archipelago | 854685 | 848564  | 6121  | 838032 | 16653  |
|  (10) Hudson_Bay | 1240262 | 1238267  | 1995  | 1222074 | 18188  |
|  (11) Central_Arctic | 3247307 | 3229654  | 17652  | 3241034 | 6272  |
|  (12) Bering_Sea | 334929 | 482018 | -147089  | 475489 | -140560  |
|  (13) Baltic_Sea | 22696 | 20622  | 2074  | 14684 | 8012  |
|  (14) Sea_of_Okhotsk | 294259 | 381697  | -87438  | 295743 | -1484  |
The only deficits to average are in Bering and Okhotsk, more than offset by surpluses everywhere else, especially in Barents and Greenland seas. 2007 extents were lower by 516k km2 (half a Wadham)
April 1st Footnote:
It has been a long hard winter, requiring overtime efforts by Norwegian icebreakers like this one: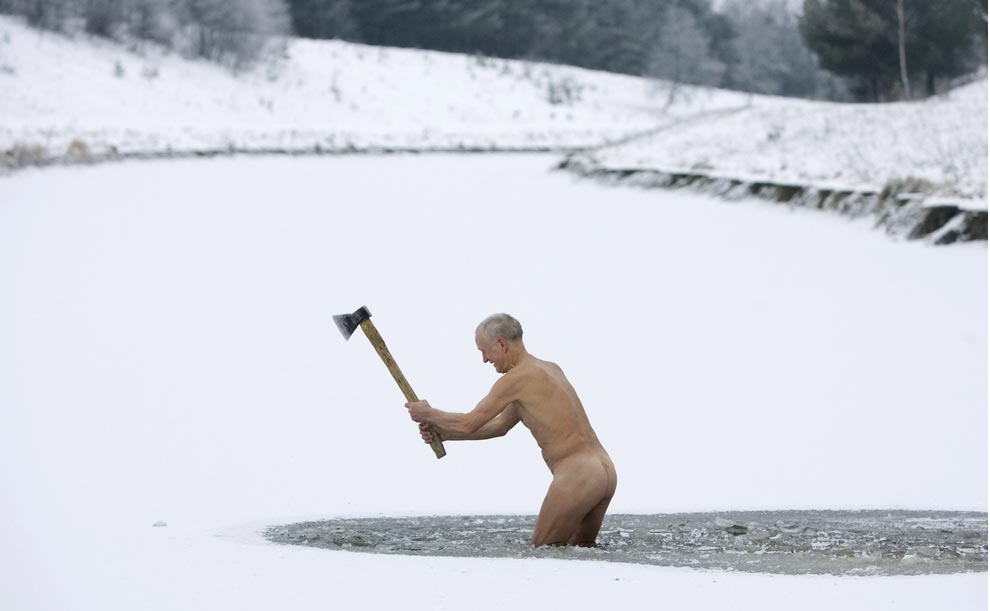 In addition, cold Spring temperatures led to unusual sightings of Northern creatures: