The 1991 blockbuster movie revolved around meek, silent victims preyed upon by malevolent believers in their warped, twisted view of the world.  A comparison can be drawn between how today's conservative thinkers and politicians respond to advocates of the pernicious global warming/climate change ideology. Instead of challenging and pushing back against CO2 hysteria, and speaking out with a rational climate perspective, Republicans in the US, and Conservatives in Canada and elsewhere are meek and silent lambs in the face of this energy slaughter.  Worse, when they do speak it is to usually to pander and try to appease offering proposals for things like carbon taxes or other non-remedies for a non-problem, essentially ceding the case to leftists.
Tom Harris of International Climate Science Coalition – Canada explains in his Financial Post article Tom Harris: The Tories should shape climate opinion, not just respond to it.  Excerpts in italics with my bolds and added images from Friends of Science billboard campaign.
Grassroots conservatives need to ask CPC leadership candidates why, if they really support Canadian energy, they don't contest climate alarmism
The common wisdom among candidates for leadership of the Conservative Party of Canada (CPC) is that the party must have a credible plan to reduce greenhouse gas emissions if it is to have a fighting chance to form the next government. As former Quebec premier Jean Charest said in the Edmonton debate on May 11, "we will not be elected as a political party if we're not credible" about putting a price on carbon for large emitters.
The strategists' thinking is that, given current public support for reducing emissions to "stop climate change," the CPC has no choice but to follow along or risk electoral defeat. And public opinion polls, like one from Abacus Data last October, do typically find that a majority of Canadians, in that poll 66 per cent, "would like to see governments in Canada put more emphasis on reducing emissions."
[For the politics of climate polling see Uncensored: Canadians View Global Warming]
But the strategists are wrong. The candidates are giving up a golden opportunity to win the votes, not just of the many grassroots conservatives who oppose the climate scare,
but of Canadians at large in the next election.
A 2012 paper published in the journal Climatic Change suggests why. Three scholars — Robert J. Brulle of Drexel University, Jason Carmichael of McGill and J. Craig Jenkins of Ohio State — looked at 74 separate surveys over a nine-year period to try to figure out which factors had the greatest influence on public views on climate change. They considered five possibilities: extreme weather events, scientific information, media coverage, advocacy, and what politicians and political parties were saying on the subject. Surprisingly, they found that neither extreme weather events nor the promulgation of scientific information had a significant impact. Media coverage did, but the strongest effect came from the positions of competing politicians and political parties.
When politicians across the political spectrum supported the narrative
of man-made climate change, the public's demand for action rose.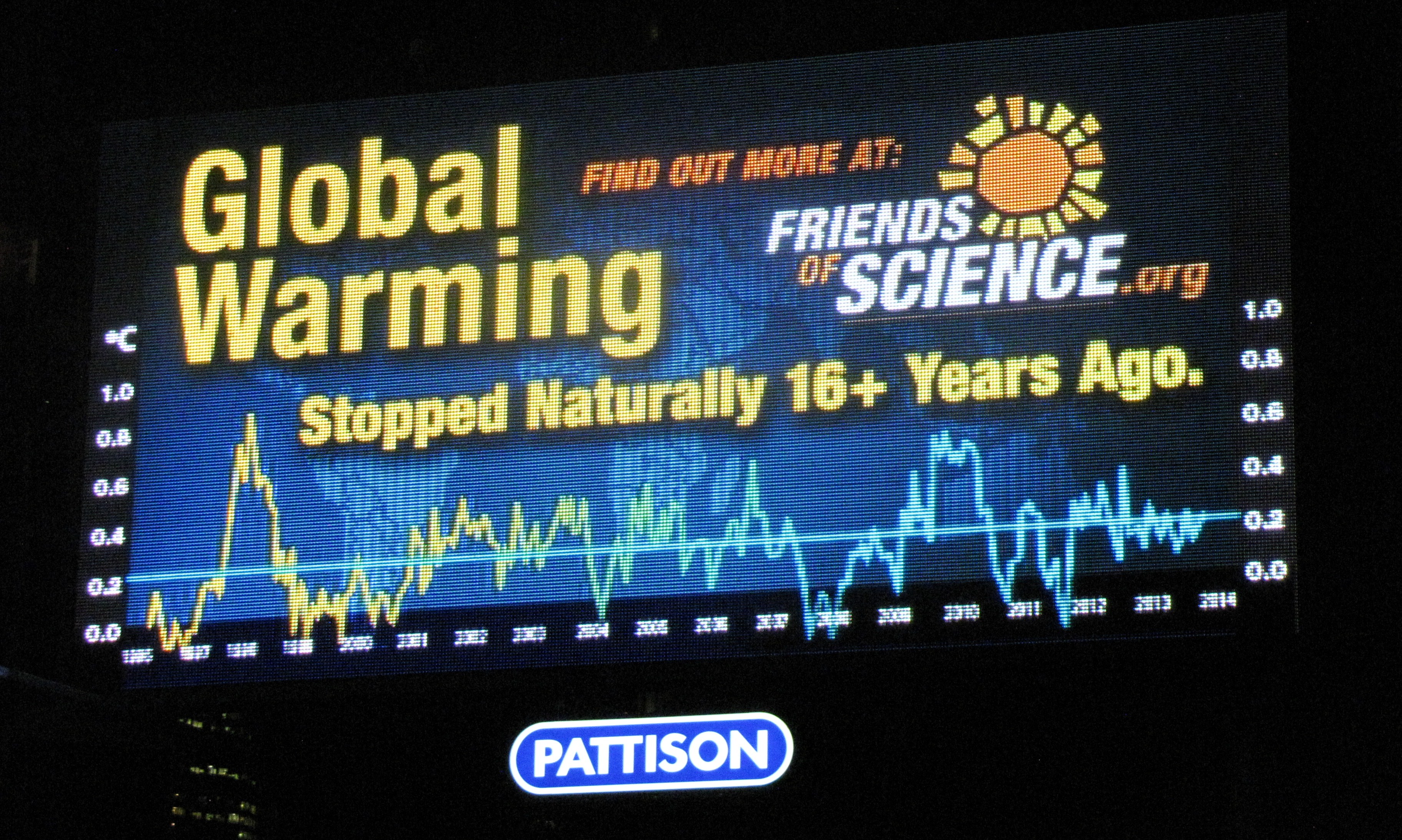 We see that today in Canada, with all major political parties supporting action on greenhouse gas emissions. On the other hand, when politicians questioned the narrative, as Congressional Republicans frequently did, the public's demand for action dropped — substantially. The scholars' analysis supported the 2009 conclusion of Harvard University's Susan McDonald that: "When elites have consensus, the public follows suit and the issue becomes mainstreamed.
When elites disagree, polarization occurs, citizens rely on other indicators
to make up their minds."
These findings are consistent with other studies that have demonstrated the leading role politicians and political parties play in shaping public opinion on issues. It's a little like the tail wagging the dog but public opinion supporting government climate policy seems at least partly due to the lack of coherent opposition to the policy on the part of opinion-makers — especially elected officials.
If that's true, then instead of citing public opinion polls that support climate policies they may be skeptical of, why don't politicians and political strategists work to change public opinion? As conservative strategist and former policy aide to Stephen Harper, Joseph Ben-Ami, put it in a 2021 study for ICSC-Canada: "The answer may come down to inexperienced politicians and their advisers not understanding their power to influence public opinion. They look at polls and conclude that they have no hope of getting elected unless they climb onto the current public opinion bandwagon.
They fail to understand that the reason the public believes what it does is largely because they (politicians) aren't making the opposite case."
This phenomenon is widespread in Canada, and on many topics, not just climate change. At all levels of government, politicians use language and promote policies they very likely disagree with because they think public opinion leaves them no choice. As Ben-Ami argues, the result is a "feedback loop" where politicians' "response" to public opinion is in reality the principal driver of the public opinion to which they are supposedly responding. The more obsequious their responses, the more entrenched that public opinion becomes, which then results in even more obsequious responses from even more frightened politicians.
Climate activists don't pull their punches. They want an end
to all of Canada's oil and gas development as soon as possible.
And, sadly, they are being helped by many in the press, government and other institutions. But a fast phase-out would be immensely costly. Besides contributing $105 billion to Canada's GDP in 2020, oil and gas provided $10 billion in average annual revenue to governments between 2017 and 2019. Yet, when CPC leadership candidates defend Canadian oil and gas, they either support, acquiesce to, or say nothing about the climate scare.
Grassroots conservatives need to ask the candidates why, if they really support Canadian energy, they don't contest climate alarmism, which is by far the greatest threat to that energy.
Tom Harris is executive director of International Climate Science Coalition – Canada.
Footnote: 
The billboards are from a campaign to inform the public by Friends of Science, not to be confused with the predatory Fiends  Friends of the Earth in the UK.
Calgary Climate Change Billboard campaign shows
Five Key Points of Cli-Sci Uncertainty says Friends of Science