Activists often say to stop burning fossil fuels now because we will run out soon anyway. In fact, we are only starting to tap into such fuel resources. From the Scientific American blog (here):
The Age of Cheap Oil and Natural Gas Is Just Beginning
We believe the period of excessively high oil prices has come to an end. The international spread of two revolutions will assure much ampler oil supplies, and will deliver prices far below the highs that reigned between the end of 2010 and mid-2014.
Beginning less than a decade ago, the shale revolution – a result of technological breakthroughs in horizontal drilling and fracking – has turned the long run declining oil production trends in the US into rises of 88% from 2008 to 2015. Despite current low prices and the damage done to profits, an exceedingly high rate of productivity improvements in this relatively new industry promises to strengthen the competitiveness of shale output even further.
A series of environmental problems related to shale exploitation have been identified, most of which are likely to be successfully handled as the infant, "wild west" industry matures and as environmental regulation is introduced and sharpened.
Geologically, the US does not stand out in terms of shale resources. A very incomplete global mapping suggests a US shale oil share of no more than 17% of a huge geological wealth, widely geographically spread. Given the mainly non-proprietary shale technology and the many advantages accruing to the producing nations, it is inevitable that the revolution will spread beyond the US.
We have assessed the prospects of non-US shale oil output in 2035, positing that the rest of the world will by then exploit its shale resources as successfully as the US has done in the revolution's first ten years. This would yield rest of world output of 20 million barrels per day in 2035, which is similar to the global rise of all oil production in the preceding 20 years – a stunning increase with far-reaching implications in many fields.
Another related revolution is beginning to see the light of the day, but news about it has barely reached the media. It is being gradually realized that advancements in horizontal drilling and fracking, technologies normally associated with shale, can also be applied to fuller extraction from conventional, but old and tired, oil fields. If the rest of the world applies these techniques to conventional oil, as the US has done in recent years, this would yield a further addition of conventional oil amounting to 20 million barrels per day by 2035.
By Marian Radetzki, Roberto F. Aguilera on May 3, 2016
"The views expressed are those of the author(s) and are not necessarily those of Scientific American"  (Anyone surprised? At least they allowed publication)
Historical Background
Dr. David Deming provides the historical context (here)
Peak Oil is the theory that the production history of petroleum follows a symmetrical bell-shaped curve. Once the curve peaks, decline is inevitable. The theory is commonly invoked to justify the development of alternative energy sources that are allegedly renewable and sustainable.
It's time to consign Peak Oil theory to the dust bin of history. The flaw of the theory is that it assumes the amount of a resource is a static number determined solely by geological factors. But the size of an exploitable resource also depends upon price and technology. These factors are difficult to predict.
The U.S. oil industry began in 1859 when Edwin Drake hired blacksmith Billy Smith to drill a 69-foot-deep well. Subsequent technological advances have opened up resources beyond the limits of our ancestors' imaginations. We can drill offshore in water up to 8,000 feet deep. We have enhanced recovery techniques, horizontal drilling and four-dimensional seismic imaging. Oklahoma oilman Harold Hamm is turning North Dakota into Saudi Arabia by using hydraulic fracturing technology. U.S. oil production has reversed its 40-year decline. By the year 2020, it is anticipated that the U.S. will be the world's top oil producer.

Share of Fuels in the Global Energy Mix Across Modern History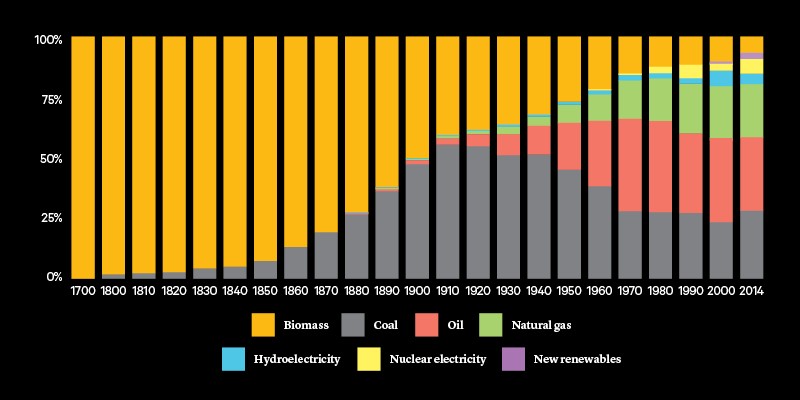 Nine years ago, I predicted that the age of petroleum has only just begun. I was right. The Peak Oil theorists, the malthusians and the environmentalists were all wrong. They've been proven wrong, over and over again, for decades. A tabulation of every failed prediction of resource exhaustion would fill a library.
Sustainability is a chimera. No energy source has been, or ever will be, sustainable. In the 11th century, Europeans anticipated the industrial revolution by transforming their society from dependence on human and animal power to water power. In the 18th century, water power was superseded by steam engines fired by burning wood. Coal replaced wood, and oil and gas have now largely supplanted coal. In the far distant future we'll probably use some type of nuclear power. But for at least the next hundred years, oil will remain our primary energy source because it's abundant, inexpensive and reliable.
Summary
Petroleum is the lifeblood of our industrial economy. The U.S. economy will remain stagnant and depressed until we begin to aggressively develop our native energy resources. As Hamm has said, "We can do this." What's stopping us isn't geology. What's stopping us is ignorance and bad public policy.
Deming is a geologist with a Ph.D in geophysics  and an associate professor of arts and sciences at the University of Oklahoma.