The title of this post sounds contradictory to most of what the media is saying about Arctic ice being in a tailspin, setting records for low extents, etc. And reports of ice blocking Newfoundland also fly in the face of media claims.
I will let you in on a secret: Arctic Ocean ice is doing fine and well above the decadal average. The only place where ice is below normal is outside the Arctic Ocean, namely Bering and Okhotsk Seas in the Pacific. Claims of disappearing ice pertain not to the Arctic itself, but to marginal Pacific seas that will melt out anyway by September.
I noticed the pattern this April when it became obvious that including Bering and Okhotsk in the Arctic totals gives a misleading picture. For sure they are part of Northern Hemisphere (NH) total sea ice, but currently the Pacific is going its own way, not indicative of the sea ice in the Central and Atlantic Arctic.
April 2017 is now complete. Focusing on the Arctic apart from Pacific marginal seas, remarkably the month ends with the same extent as it began at 13M km2. The graph below shows an early fluctuation down, followed by later gains and a gentle descent. May begins with the Arctic seas showing a surplus of ~400k km2 above average.
While the Arctic ocean ice is persisting, Bering and Okhotsk extents have retreated ahead of schedule, as the graph below shows.  Presently Bering and Okhotsk combined are 50% of decadal average, down by 500k km2.
The distinctive Pacific pattern is evident in the images of changing ice extents this April.  First, see how ice in Bering and Okhotsk seas has retreated steadily this month.
Meanwhile, on the Atlantic side ice has grown steadily.  Note the persistent ice blocking Newfoundland on the bottom right, and encasing Svalbard on the upper left.
The Chart below shows the traditional view of NH ice extents, which includes the Pacific seas together with the Arctic seas.  2017 is only slightly lower than average on this basis, despite a deficit of 500k km2 in Bering and Okhotsk, which obscures the ice surpluses elsewhere.  Comparisons with Sea Ice Index (SII) and 2007 are also shown.
Summary
The details are important to form a proper perception of any natural process, including dynamics of sea ice waxing and waning. On closer inspection, the appearance of declining Arctic sea ice is actually another after effect of the recent El Nino and Blob phenomena, and quite restricted to the Pacific marginal seas.
Meanwhile, on the Atlantic side of the Arctic, we have sightings and reports of ice surges along the coast of Newfoundland, such amounts not seen since the 1980s. Below an image of St. John's harbour with tons of ice, provided by Ryan Simms.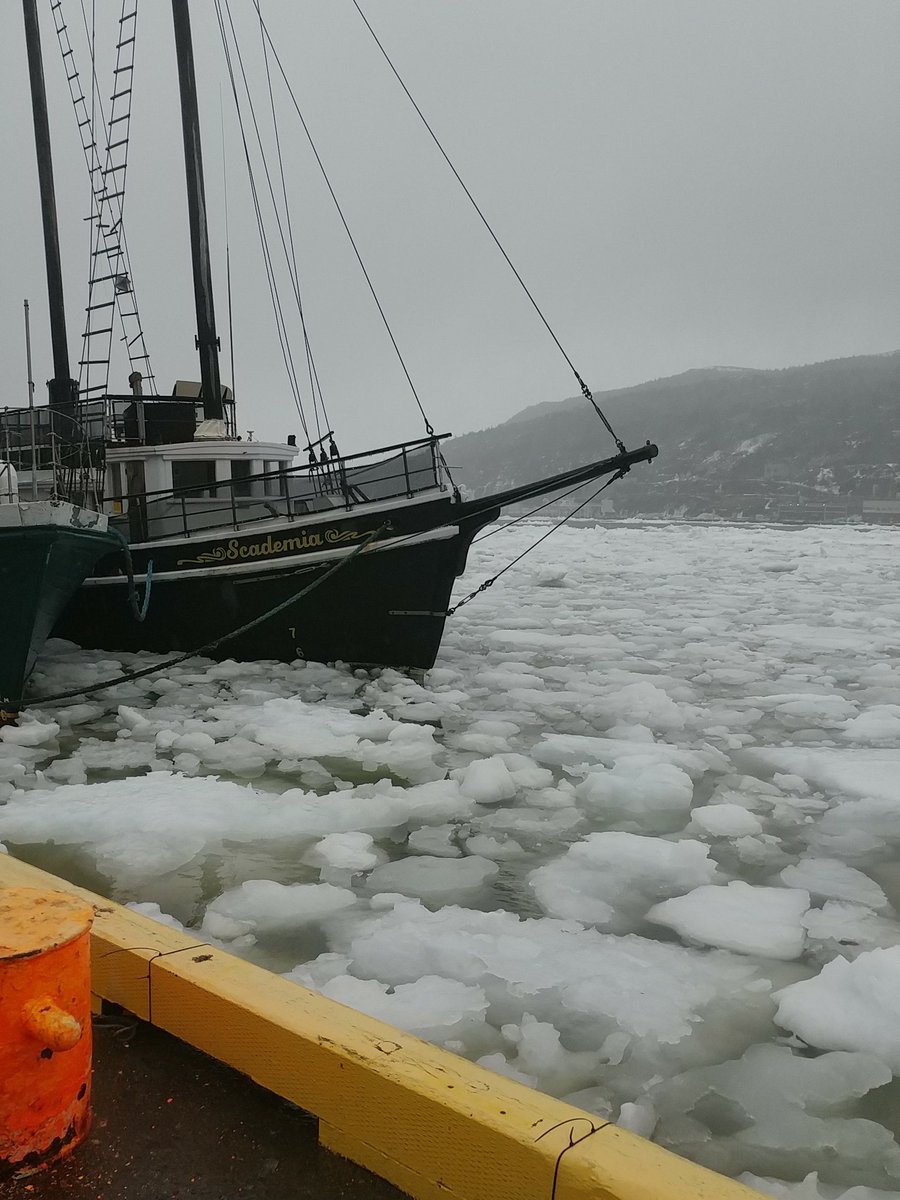 And from Twillingate: "Basically it's just an ocean of ice ahead of us.' – Derrick Bath, Polar Venture