Contextual Remarks
It is worth remembering that "populist" is a term used by the established elites to demean those expressing the plebes' concerns and thereby forging political constituencies.  Christopher Caldwell explained:
"Le monde, the French newspaper of record, admitted last summer that readers had been complaining about the indiscriminate way its journalists flung around the word "populist." It seemed to describe dozens of European and American political actors with nothing in common except the contempt in which Le Monde held them. The meaning of "populist" was nonetheless easy to decode. A dispatch in that same edition of Le Monde, about a new political alliance between populist governments in Italy, Austria, and Hungary, was titled: "Europe's hard right lays down the law against migrants." To call someone a populist is to insinuate that he is a fascist, but tentatively enough to spare the accuser the responsibility of supplying proof. If one sees things as Le Monde does, this is a good thing: populism is an extremism-in-embryo that needs to be named in order that it might better be fought. Others, though, will see populism as an invention of the very establishmentarians who claim to be fighting it, an empty word that allows them to shut down with taboos any political idea that they cannot defeat with arguments. In Europe, populism is becoming the great which-side-are-you-on question of our time." For more see What is Populism?
Suffice it to say that the hoi polloi are on the march in many European nations and beyond, and the latest breakthrough in Finland adds disgust with climate policy to immigration concerns to forge a potent voter appeal.
Alex Kliment writes insightfully on the recent Finnish election in Finland at GezeroMedia: Finnish Populists Shift Aim From Browns to Greens.  Excerpts in italics with my bolds.
Anti-immigrant rhetoric has been a political winner for populist parties across Europe in recent years, but as the flow of new asylum-seekers wanes, Finland's main right-wing outfit found a new way to win votes over the weekend.
In a national election defined largely by a polarizing debate over what to do about climate change, the euroskeptic nationalists of the Finns Party came in second place, just a hair behind the center-left Social Democrats. And they did it by taking square aim at climate policy.
Finland, of course, is on the front lines of climate change. A third of its territory lies above the Arctic Circle, where rapidly melting ice caps are transforming the environment both locally and globally.
But Finland is already one of the world's most environmentally-friendly countries, and the Finns party's message on this subject was simple: we've done enough.
Their beef isn't with climate science itself, but with policy proposals like higher fuel taxes, electric vehicle requirements, and restrictions on meat consumption that impose short-term pain for uncertain longer-term gains.
The Finns Party says these measures disproportionately hurt working people, particularly their supporters in the countryside, and scare away foreign companies that may choose to invest in other countries that impose fewer environmental restrictions.
What's more, Finns asks, why should a small country like Finland make more sacrifices to help the planet when progress depends almost entirely on actions taken by bigger polluters like China, the US, and India?
It's unclear whether the Finns Party will have a role in the next Finnish government, but the party's strong showing has drawn notice from other populist parties across the continent, which are hoping to make big gains in elections to the European Parliament next month.
The upshot: Several years on from the peak of the migrant crisis, Europe's populist parties need new campaign issues that resonate with their voters. Climate policy – which often imposes clear economic and lifestyle sacrifices while promising fewer tangible benefits – may be the next ripe issue for anti-establishment politicians across Europe.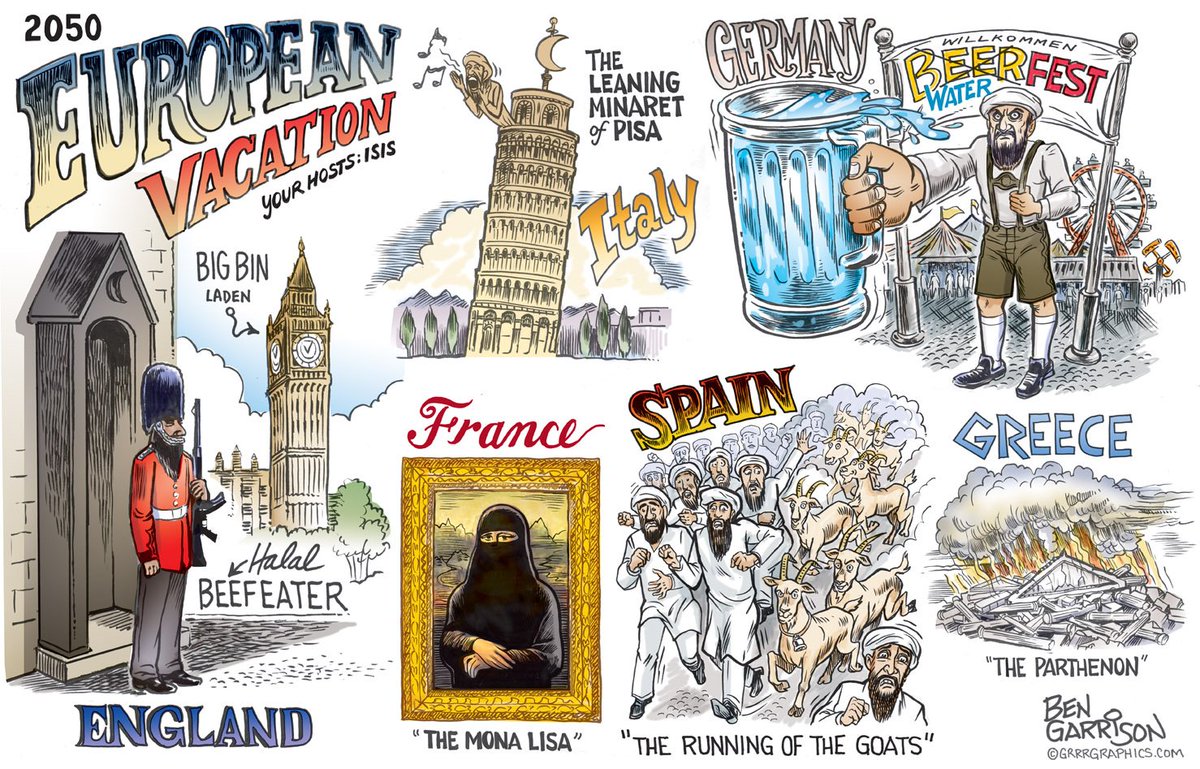 Background
Though Steve Bannon is currently out of Trump's favor, he is nevertheless lucid and convincing on the subject of the populist wave from UK to Brazil, Eastern Europe, and two years ago the Trump election, so upsetting to those who know better than the rest of us.  Below is reprinted a previous 2016 post Trump Revolution World Outlook.
Lots of scorn, slurs and insults directed at Trump's appointment of his chief advisor, Steve Bannon. The invective is so pervasive and intense, it exemplifies a new phenomenon in the global village: the Lie Swarm.  From the Streetwise Professor (here)
Bannon, and especially Trump, are primary targets of the Lie Swarm, especially since Trump had the temerity to actually prevail in the election. Don't get me wrong–there is much about Trump to criticize. But there has been a kind of Gresham's Law at work here: the bad criticism has driven out the good. Screeching "racist!" "Anti-Semite!" "Fascist!" on the basis of the most twisted and biased interpretation of the flimsiest evidence has overwhelmed substantive argument.
And the Swarm really hasn't figured out that their attack will do little to get Trump supporters to change their minds. If anything, it will do the opposite, because the "deplorables" know that they are being attacked and smeared as much as Bannon and Trump. Furthermore, the Swarm seems hell-bent on living out Einstein's definition of insanity: doing the same thing over and over, and expecting different results. Hillary's whole campaign was based on personal attacks on Trump and his supporters, and she enlisted the Swarm in this endeavor.
Bannon in his own words
Martin Luther King said people should be judged by the quality of their character, not superficial identifiers like race, gender or religion. So someone like Steve Bannon should be evaluated by what he himself says and thinks, not by the words of others. And in fact if you listen with a mind to understand him, you discover why Trump values his advice on world realities and strategies to move America forward.
This Is How Steve Bannon Sees The Entire World is a transcript of an extended presentation by Steve Bannon from 2014, published at Buzzfeed (here). Some excerpts that struck me as particularly insightful.
Inclusive Capitalism Saved Us
That war (WWI) triggered a century of barbaric — unparalleled in mankind's history — virtually 180 to 200 million people were killed in the 20th century, and I believe that, you know, hundreds of years from now when they look back, we're children of that: We're children of that barbarity. This will be looked at almost as a new Dark Age.
But the thing that got us out of it, the organizing principle that met this, was not just the heroism of our people. . . The underlying principle is an enlightened form of capitalism, that capitalism really gave us the wherewithal. It kind of organized and built the materials needed to support, whether it's the Soviet Union, England, the United States, and eventually to take back continental Europe and to beat back a barbaric empire in the Far East.
That capitalism really generated tremendous wealth. And that wealth was really distributed among a middle class, a rising middle class, people who come from really working-class environments and created what we really call a Pax Americana. It was many, many years and decades of peace. And I believe we've come partly offtrack in the years since the fall of the Soviet Union and we're starting now in the 21st century, which I believe, strongly, is a crisis both of our church, a crisis of our faith, a crisis of the West, a crisis of capitalism.
Modern Perversions of Capitalism
But there's a strand of capitalism today — two strands of it, that are very disturbing.
One is state-sponsored capitalism. And that's the capitalism you see in China and Russia. I believe it's what Holy Father [Pope Francis] has seen for most of his life in places like Argentina, where you have this kind of crony capitalism of people that are involved with these military powers-that-be in the government, and it forms a brutal form of capitalism that is really about creating wealth and creating value for a very small subset of people. And it doesn't spread the tremendous value creation throughout broader distribution patterns that were seen really in the 20th century.
The second form of capitalism that I feel is almost as disturbing, is what I call the Ayn Rand or the Objectivist School of libertarian capitalism. And, look, I'm a big believer in a lot of libertarianism. I have many many friends that's a very big part of the conservative movement — whether it's the UKIP movement in England, it's many of the underpinnings of the populist movement in Europe, and particularly in the United States.
However, that form of capitalism is quite different when you really look at it to what I call the "enlightened capitalism" of the Judeo-Christian West. It is a capitalism that really looks to make people commodities, and to objectify people, and to use them almost — as many of the precepts of Marx — and that is a form of capitalism, particularly to a younger generation [that] they're really finding quite attractive. And if they don't see another alternative, it's going to be an alternative that they gravitate to under this kind of rubric of "personal freedom."
Crony Capitalism Gives Rise to a Populist Revolt
General Electric and these major corporations that are in bed with the federal government are not what we'd consider free-enterprise capitalists. We're backers of entrepreneurial capitalists. They're not. They're what we call corporatist. They want to have more and more monopolistic power and they're doing that kind of convergence with big government. And so the fight here — and that's why the media's been very late to this party — but the fight you're seeing is between entrepreneur capitalism, and the Acton Institute is a tremendous supporter of, and the people like the corporatists that are closer to the people like we think in Beijing and Moscow than they are to the entrepreneurial capitalist spirit of the United States.
The underpinning of this populist revolt is the financial crisis of 2008. That revolt, the way that it was dealt with, the way that the people who ran the banks and ran the hedge funds have never really been held accountable for what they did, has fueled much of the anger in the tea party movement in the United States. . . In addition, I think you really need to go back and make banks do what they do: Commercial banks lend money, and investment banks invest in entrepreneurs and to get away from this trading — you know, the hedge fund securitization, which they've all become basically trading operations and securitizations and not put capital back and really grow businesses and to grow the economy.
I think it's particularly more advanced in Europe than it is in the United States, but in the United States it's getting pretty advanced — is that when you have this kind of crony capitalism, you have a different set of rules for the people that make the rules. It's this partnership of big government and corporatists. I think it starts to fuel, particularly as you start to see negative job creation. If you go back, in fact, and look at the United States' GDP, you look at a bunch of Europe. If you take out government spending, you know, we've had negative growth on a real basis for over a decade.
And that all trickles down to the man in the street. If you look at people's lives, and particularly millennials, look at people under 30 — people under 30, there's 50% really under employment of people in the United States, which is probably the most advanced economy in the West, and it gets worse in Europe.
So you can understand why middle class people having a tough go of it making $50 or $60 thousand a year and see their taxes go up, and they see that their taxes are going to pay for government sponsored bailouts, what you've created is really a free option. You say to this investment banking, create a free option for bad behavior. In otherwise all the upside goes to the hedge funds and the investment bank, and to the crony capitalist with stock increases and bonus increases. And their downside is limited, because middle class people are going to come and bail them out with tax dollars.
And that's what I think is fueling this populist revolt. Whether that revolt is in the midlands of England, or whether it's in Middle America. And I think people are fed up with it.
Secularization and the Rise of Islamic Fascism
The other (worrying) tendency is an immense secularization of the West. And I know we've talked about secularization for a long time, but if you look at younger people, especially millennials under 30, the overwhelming drive of popular culture is to absolutely secularize this rising iteration.
Now that call converges with something we have to face, and it's a very unpleasant topic, but we are in an outright war against jihadist Islamic fascism. . .That war is expanding and it's metastasizing to sub-Saharan Africa. We have Boko Haram and other groups that will eventually partner with ISIS in this global war, and it is, unfortunately, something that we're going to have to face, and we're going to have to face very quickly.
Because it is a crisis, and it's not going away. You don't have to take my word for it. All you have to do is read the news every day, see what's coming up, see what they're putting on Twitter, what they're putting on Facebook, see what's on CNN, what's on BBC. See what's happening, and you will see we're in a war of immense proportions. It's very easy to play to our baser instincts, and we can't do that. But our forefathers didn't do it either. And they were able to stave this off, and they were able to defeat it, and they were able to bequeath to us a church and a civilization that really is the flower of mankind, so I think it's incumbent on all of us to do what I call a gut check, to really think about what our role is in this battle that's before us.
I'm not justifying Vladimir Putin and the kleptocracy that he represents, because he eventually is the state capitalist of kleptocracy. However, we the Judeo-Christian West really have to look at what he's talking about as far as traditionalism goes — particularly the sense of where it supports the underpinnings of nationalism — and I happen to think that the individual sovereignty of a country is a good thing and a strong thing. I think strong countries and strong nationalist movements in countries make strong neighbors, and that is really the building blocks that built Western Europe and the United States, and I think it's what can see us forward.
Global Center-Right Populist Movement
Look, we believe — strongly — that there is a global tea party movement. We've seen that. We were the first group to get in and start reporting on things like UKIP and Front National and other center right. With all the baggage that those groups bring — and trust me, a lot of them bring a lot of baggage, both ethnically and racially — but we think that will all be worked through with time.
The central thing that binds that all together is a center-right populist movement of really the middle class, the working men and women in the world who are just tired of being dictated to by what we call the party of Davos. A group of kind of — we're not conspiracy-theory guys, but there's certainly — and I could see this when I worked at Goldman Sachs — there are people in New York that feel closer to people in London and in Berlin than they do to people in Kansas and in Colorado, and they have more of this elite mentality that they're going to dictate to everybody how the world's going to be run.
I will tell you that the working men and women of Europe and Asia and the United States and Latin America don't believe that. They believe they know what's best for how they will comport their lives. They think they know best about how to raise their families and how to educate their families. So I think you're seeing a global reaction to centralized government, whether that government is in Beijing or that government is in Washington, DC, or that government is in Brussels.
And that center-right revolt is really a global revolt. I think you're going to see it in Latin America, I think you're going to see it in Asia, I think you've already seen it in India. Modi's great victory was very much based on these Reaganesque principles, so I think this is a global revolt, and we are very fortunate and proud to be the news site that is reporting that throughout the world.