Previous posts showed 2022 Arctic Ice broke the 15M km2 ceiling in February, followed by a typical small melt in March.  Climatology refers to the March monthly average ice extent as indicative of the annual maximum Arctic ice extent.  The graph above shows that the March monthly average has varied little since 2007, typically around the SII average of 14.7 M km2.  Of course there are regional differences as described later on.
The animation shows ice extent fluctuations during March 2022. Bering Sea (lower left) gained ice over the month, while ice in Okhotsk (higher left) retreated. At the top Kara and Barents seas lost and then gained ice.  Baffin Bay lower right lost ice during March.  The main changes were Baffin losing ~360k km2 of extent and Okhotsk losing ~260k km2.
The effect on NH total ice extents is presented in the graph below.
The graph above shows ice extent through March comparing 2022 MASIE reports with the 16-year average, other recent years and with SII.  Hovering around 15M km2 the first week, 2022 ice extents dropped sharply mid month, then stabilized and at March end matched the average. Both 2020 and 2021 ended nearly 400k km2 below average. The two green lines at the bottom show average and 2022 extents when Okhotsk ice is excluded.  On this basis 2022 Arctic was nearly 400k km2 in surplus, then declined mid month before ending nearly 200k km2 in surplus to average, except for the ice shortage in Okhotsk.
| | | | | | |
| --- | --- | --- | --- | --- | --- |
| Region | 2022090 | Day 90 Average | 2022-Ave. | 2021090 | 2022-2021 |
|  (0) Northern_Hemisphere | 14563095 | 14616765  | -53670  | 14266634 | 296461  |
|  (1) Beaufort_Sea | 1070776 | 1070116  | 660  | 1070689 | 87  |
|  (2) Chukchi_Sea | 966006 | 963906  | 2100  | 966006 | 0  |
|  (3) East_Siberian_Sea | 1087137 | 1086102  | 1035  | 1087137 | 0  |
|  (4) Laptev_Sea | 897845 | 896958  | 887  | 897827 | 18  |
|  (5) Kara_Sea | 935023 | 918083  | 16941  | 935023 | 0  |
|  (6) Barents_Sea | 748326 | 645014  | 103311  | 602392 | 145934  |
|  (7) Greenland_Sea | 616239 | 652388  | -36148  | 620574 | -4334  |
|  (8) Baffin_Bay_Gulf_of_St._Lawrence | 1441014 | 1400528  | 40486  | 1243739 | 197275  |
|  (9) Canadian_Archipelago | 854685 | 852982  | 1703  | 854597 | 88  |
|  (10) Hudson_Bay | 1260903 | 1254217  | 6687  | 1260903 | 0  |
|  (11) Central_Arctic | 3245216 | 3232275  | 12941  | 3192844 | 52373  |
|  (12) Bering_Sea | 785874 | 720525 | 65348  | 549939 | 235935  |
|  (13) Baltic_Sea | 52068 | 63446  | -11377  | 33543 | 18525  |
|  (14) Sea_of_Okhotsk | 596190 | 849221  | -253031  | 942085 | -345895  |
The table shows that the large deficit in Okhotsk is only partially offset by surpluses in Bering and Barents Seas.  All other regions show typical extents at end of March
April 1st Footnote:
It has been a long hard winter, requiring overtime efforts by Norwegian icebreakers like this one: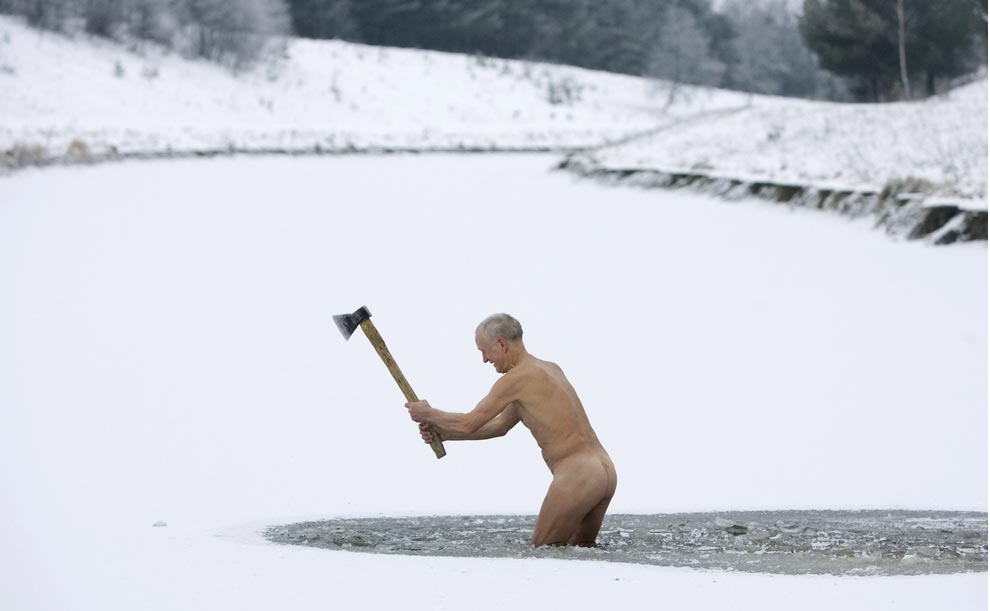 In addition, cold March temperatures led to unusual sightings of Northern creatures: