Update May 25 below.
We should all know what Alfred E. Neuman knows, namely: Where does all that CO2 come from? Here is the answer from engineer Ronald Voisin.
Excerpts below are from An Engineer's Take On Major Climate Change
Figure 3 outlines the primary sources of natural CO2 release in decreasing order of quantity of carbon emitted: oceanic release, microbial decay, insect activity, frozen terrestrial release; volcanic release; forest fire and then mammalia exhalations and emissions – summing to a total of ~325-485 petagrams (PgC). Then there is our ~2.0% anthropogenic release at ~8-9 petagrams. (Based on terrestrial sources alone, without oceans, anthropogenic release is ~3-4% of the natural flux. Some argue that the oceans are net absorbers and ignore the oceanic release estimate below. However, according to the hypothesis presented herein the oceans are net emitters as indicated below when warmed by ~0.5C per century).
These natural sources all correlate to global temperature (including, at the least, terrestrial volcanism, as recently verified). When the Earth gets warm, for whatever reason, these natural sources all kick-in together to contribute vast quantities of CO2; and to produce the observed habitual atmospheric CO2 spikes upward. Conversely, when the Earth gets cold, for whatever reason, they all go into remission together; naturally and (generally) coherently to produce a consequential reduction in atmospheric CO2. Each spike or dip in CO2 follows temperature with a lag time averaging 800 years, but proportional to the level and magnitude at which the temperature swings take place.
It is extraordinarily difficult to imagine that these natural sources are not at play during this current period of warming. They most likely are the primary cause of the currently observed CO2 spike. And yes, we humans, as co-inhabitants of this Earth, are emitting CO2. But so are microbes and insects emitting. And each of them is emitting with ~10 times our current anthropogenic emission. In both cases (microbes and insects) there is every reason to believe that their populations are geometrically exploding in this current highly favorable environment to their existence. The recently warming oceans are most likely the largest emitter of all.
Atmospheric CO2 is spiking just now. And we have good reason to believe that it is largely, essentially entirely doing so for all the same reasons it has done so within each and every prior warming period of the past. All natural sources of CO2 emission are currently revved-up and in high gear during this extended interglacial. Approximately 98% of the current spike is natural while we add our anthropogenic 2%.
We also have reason to believe that the current spike would be as large, or larger, than now observed, if we humans were never here at all. Why? Because those organisms that would otherwise be here in our stead would most likely emit much more CO2 than we are. i.e. We humans have chosen to systematically limit the proliferation of micro-organisms and insects in the land we use for cultivation and occupation – which represents about 1/3rd of all land. And in the other 2/3rds of all land, microbes and insects are each estimated to emit ~10 times our anthropogenic emission (insects alone outnumber humans >>10,000,000,000:1 – enough to fill several large dumpsters per person).
The relative contribution from microbe and insect emissions would have gone up significantly if we were never here (by a very rough factor of up to 1.5*). They would have filled our void geometrically; unlike our anthropogenic contribution. When we humans get rich, we uniquely self-limit our proliferation, by deciding to have fewer children. And our human emission pales in comparison to the emission from these astronomically vast numbers of other organisms. So if we were never here, greatly enhanced populations of microbes and insects would be emitting many times our anthropogenic emission from the very land that we systematically exclude them from. This situation most likely characterizes the events within prior interglacials.
Summary
1. Climate science is very complicated and very far from being settled.
2. Earth's climate is overwhelmingly dominated by negative-feedbacks that are currently poorly represented in our Modeling efforts and not sufficiently part of ongoing investigations.
3. Climate warming drives atmospheric CO2 upward as it stimulates all natural sources of CO2 emission. Climate cooling drives atmospheric CO2 downward.
4. Massive yet delayed thermal modulations to the dissolved CO2 content of the oceans is what ultimately drives and dominates the modulations to atmospheric CO2.
5. The current spike in atmospheric CO2 is largely natural (~98%). i.e. Of the 100ppm increase we have seen recently (going from 280 to 380ppm), the move from 280 to 378ppm is natural while the last bit from 378 to 380ppm is rightfully anthropogenic.
6. The current spike in atmospheric CO2 would most likely be larger than now observed if human beings had never evolved. The additional CO2 contribution from insects and microbes (and mammalia for that matter) would most likely have produced a greater current spike in atmospheric CO2.
7. Atmospheric CO2 has a tertiary to non-existent impact on the instigation and amplification of climate change. CO2 is not pivotal. Modulations to atmospheric CO2 are the effect of climate change and not the cause.
Ronald D Voisin is a retired engineer. He spent 27 years in the Semiconductor Lithography Equipment industry mostly in California's Silicon Valley. Since retiring, he has made a hobby of studying climate change for the last 7 years. Ron received a BSEE degree from the Univ. of Michigan – Ann Arbor in 1978 and has held various management positions at both established equipment companies and start-ups he helped initiate. Ron has authored/co-authored 55 patent applications, 24 of which have issued.
Footnote:  Voisin's article was published in 2013, the facts still overlooked and ignored.
Update May 25
Robert Kernodle provided this chart recently in a separate comment thread.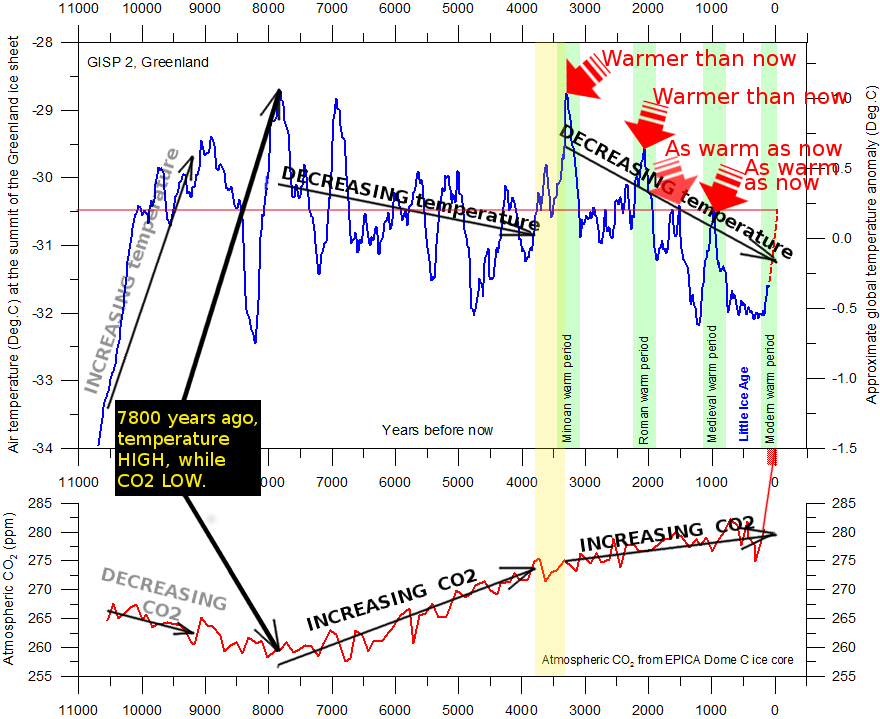 Those patterns indicate that over millennial time scales, atmospheric CO2 appears as a natural negative feedback to planetary warmer periods.  As warming stimulates natural sources, CO2 rises, and after many centuries of delay, temperatures cool down.  Ironically, scientists in the 1950s and 60s who raised concerns about a coming ice age maybe had a truer sense of how CO2 is related to climate.  Of course, even then they exaggerated the effect of humanity's 2% contribution, overemphasized decadal fluctuations and mistook CO2 as the cause rather than the effect of warming periods.