Context
A previous post explained how local TV weatherpersons are being recruited to stoke public fears about global warming/climate change.  See Climate Evangelists Are Taking Over Your Local Weather Forecast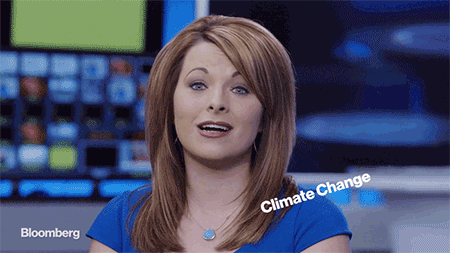 For example, just today Philadelphia NBC TV affiliate aired a segment declaring Climate Change Studies Show Philly Underwater. Previously Philly CBS station had their piece shown below.
All of this fearmongering over sea level rise is a coordinated campaign to terrorize coastal dwellers and landowners. UCS (Union of Concerned Scientists) together with Climate Central are collaborating to do a drip, drip, drip water torture treatment exploiting the public addiction to television.
What They Are Not Telling People
From NOAA Tides and currents comes this long record of service by the tidal guage at Philadelphia.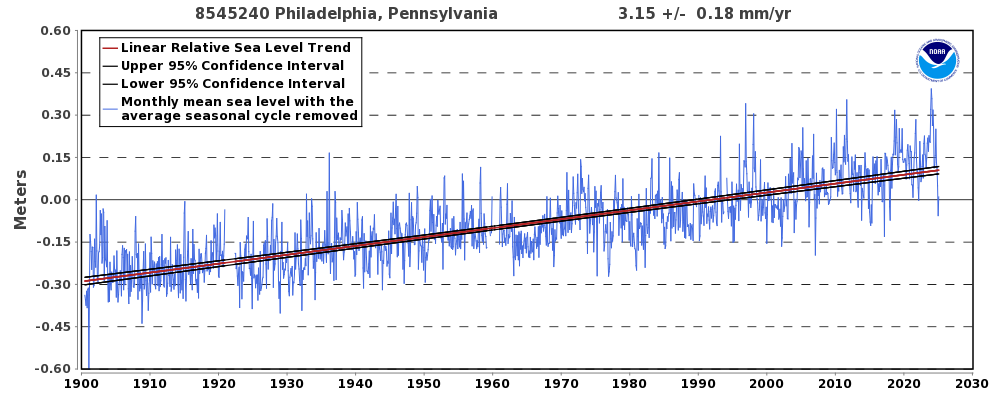 Climate Central in 2016 published Pennsylvania and the Surging Sea, including this forecast:
In records running back to 1900, Philadelphia has never seen waterfront flooding that reaches 4 feet above the local high tide line. But under a mid-range sea level rise scenario, floods within the Delaware Estuary exceeding 4 feet are more likely than not to take place by 2040, less than one 30-year mortgage cycle away. Under a low-range scenario, chances are just below even; and under a high-range scenario, they reach 3 in 4. At the other end of the spectrum, under high-range projections, there is roughly a 4 in 5 chance of floods above 9 feet by the end of the century.
Putting the projections together with the observational record gives this graph.

Both the record and projection are zero at year 2000.  If the past trend continues, a further rise of 30 cm would be observed by 2100.  If Climate Central model-based projection is true, the red line shows 122 cm rise by 2040, and 274 cm by 2100.  So alarmists are projecting in 20 years, Philadelphia will get four times the rise that occurred in the last 100 years.  Even now, in 2019, the projection is off by 50 cm, and observations are going down.
Not to worry, UCS provides this Disclaimer:
Neither the authors nor the Union of Concerned Scientists are responsible or liable for financial or reputational implications or damages to homeowners, insurers, investors, mortgage holders, municipalities, or other any entities. The content of this analysis should not be relied on to make business, real estate or other real world decisions without independent consultation with professional experts with relevant experience. The views expressed by individuals in the quoted text of this report do not represent an endorsement of the analysis or its results.
None of that uncertainty appears in the TV clips.  And even worse, computing technology and desktop publishing are being exploited not to empower people, but to terrify them.  An entire web page is devoted to Google Earth images photoshopped to show chunks of Philadelphia under water. Here's what Philly could look like in 2100 if sea levels rise

Conclusion
More and more, the media are pushing people into the Hobbesian Choice.  Thomas Hobbes (1544–1631) believed that man must choose between living in a state of nature (a life which is "solitary, poor, nasty, brutish, and short") or suffering under an arbitrary and absolute government.  And the media content forces another awful decision:  Either believe nothing (or the opposite) of what you read or see on TV, or go into full panic mode.
Footnote
The hottest temperatures ever reported in Phoenix came in January 2015, when Fox 10 weatherman Cory McCloskey faced a malfunctioning temperature map on live television. "Wow, 750 degrees in Gila Bend right now," he said, without breaking a sweat. "And 1,270 in Ahwatukee. Now, I'm not authorized to evacuate, but this temperature seems pretty high." More than 6 million people have watched the blooper on YouTube.