Christopher Caldwell writes at Claremont Review of Books insightfully about the Brexit struggle Why Hasn't Brexit Happened?  Excerpts in italics with my bolds
Caldwell tells the story of how Britain and the EU got to this point, and makes two important points.  Almost inadvertently, the EU pact removed British sovereignty and the British constitution.  He explains:
In Britain as elsewhere in the world, the struggle has been unleashed by innovations in administration that have arisen since the Cold War. These shift power from electorates and parliaments to managers of information, inside government and out. From thousand-year-old constitutional ideas to five-year-old ones. From habeas corpus to gender identity. Because it was Britain that did the most to construct the ideal of liberty which is now being challenged, Brexit clarifies the constitutional stakes for the world as nothing else.
Many statesmen warned from the outset that British ideas of liberty would not survive a merger with the E.U. The most eloquent early diagnoses came from the Labour Party, not the Tories. That is because the fundamental disposition of the E.U. is to favor technocratic expertise over representative government, and the Tories have not generally been the British party that placed the highest priority on the passions of the masses. In 1962, as Tory Prime Minister Harold Macmillan was eying EEC membership, Labour leader Hugh Gaitskell warned, "[I]t does mean the end of Britain as an independent nation state.… It means the end of a thousand years of history. You may say 'Let it end' but, my goodness, it is a decision that needs a little care and thought."
What Britain Lost in Joining the EU
Gaitskell was right, but it is only in recent years that people have begun to see exactly why he was right. It was always understood that joining the EEC in 1973 compromised Britain's national sovereignty. All countries that joined had to acknowledge the supremacy of E.U. law over their own. This was a deadly serious thing if you reasoned the consequences to the end. For one thing, it deprived Britain's monarchy of its (already somewhat vestigial) logic. Monarchs are not underlings: in joining the EEC, Britain could be said to have deposed its queen. Pro-E.U. politicians assured their voters that it wasn't as serious as that. Britain, they said, had to give a little bit of its sovereignty up in order to receive the benefits of cooperation, the way it did in, say, NATO. Other European countries had done so without wrecking their systems.
But this was a false analogy, as the political scientist Vernon Bogdanor explains persuasively in his recent book, Beyond Brexit. NATO was a treaty. The EEC was a merger. What is more, the EEC that Britain joined had been designed by the major countries of continental Europe in line with their own traditions and interests. It was not in line with Britain's. Britain had no institutions like the European Commission, an unelected body that could (and still does) initiate legislation. Britain's politicians didn't understand the rules intuitively and were less able to work the system. British political institutions were unsuitable as a "farm system" for training E.U. politicians.
And there was an even larger problem than the loss of national sovereignty, Bogdanor shows. The E.U. destroyed the system of parliamentary sovereignty at the heart of Britain's constitution. For all its royalist trappings, Britain has traditionally been a much purer representative democracy than the United States, because it excludes courts from reviewing legislation on any grounds. British politicians tried to calm the public with assurances that, where British law and E.U. law clashed, British law would prevail. But the acknowledgement of E.U. legal supremacy in the treaties meant that E.U. law was British law.
In the 1980s, British judges began finding that parliamentary laws had been invalidated by later British laws—a normal and time-honored process, except that these new "British" laws had been imported into British statute books not by legislation but by Britain's commitment to accept laws made on the continent. Bogdanor, who is a Remainer and a defender of human rights, does not necessarily condemn this development. But it meant that, through the back door, judicial review was being introduced into a constitutional culture that had never had it.
Quangos and foundations began designing cases—concerning migrants' rights, gay rights, search-and-seizure—that unraveled the centuries-old fabric woven from the rights and duties of British citizenship. A new fabric began to be woven, based (as are all such systems in Europe) on post-Civil Rights Act American law and on the litigative ethos of the American bar.
In 1998, Labour Prime Minister Tony Blair passed the Human Rights Act, which swept into British law the European Convention on Human Rights (a pre-E.U. document dating from 1953). It also bound Britain to abide by decisions reached by the European Court of Human Rights, which sits in the French city of Strasbourg. Article 8.1 of the Convention ("Everyone has the right to respect for his private and family life, his home and his correspondence") was supposed to protect people from the prying eyes of the state, as our Fourth Amendment does. But as the judge and scholar Jonathan (Lord) Sumption noted in a series of lectures this summer, it quickly became the "functional equivalent" of the due process clause of the American 14th Amendment—grounds for all kinds of judicial adventurism.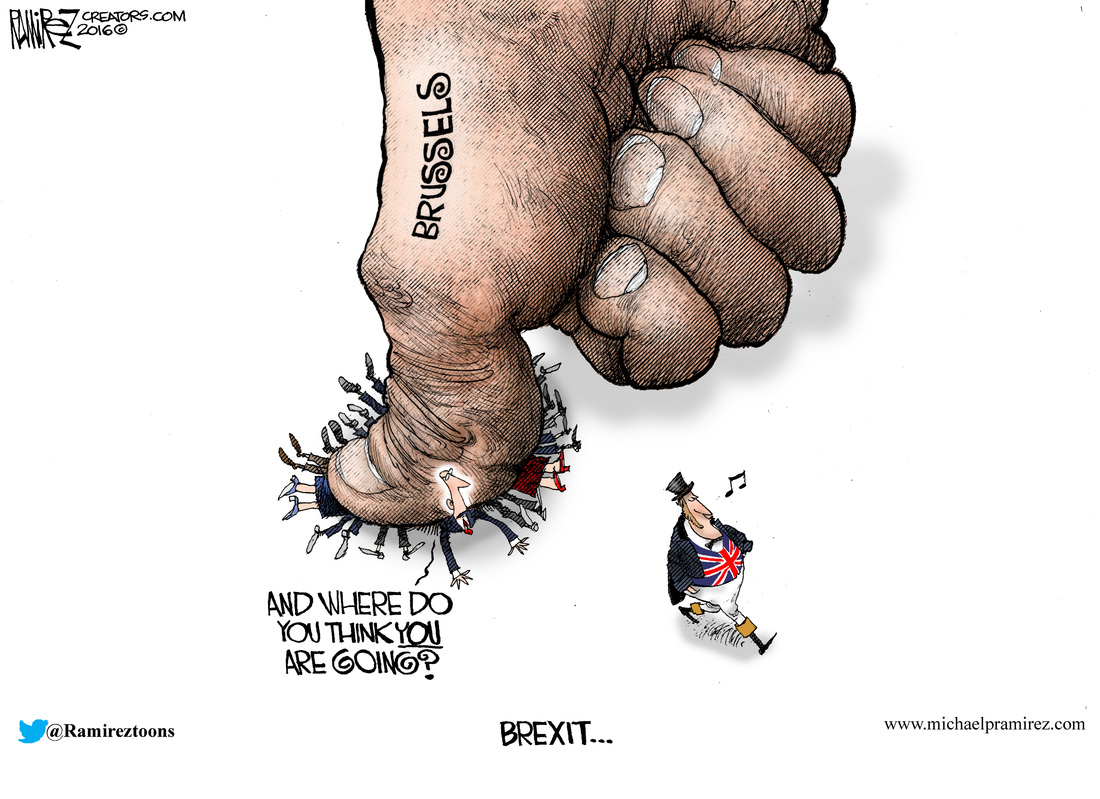 The EU Empowers the Rich with Deep State Power
The transfer of competences from legislatures to courts is a superb thing for the rich, because of the way the constitution interacts with occupational sociology. Where the judiciary is drawn from the legal profession, and where the legal profession is credentialed by expensive and elite professional schools, judicialization always means a transfer of power from the country at large to the richest sliver of it. This is true no matter what glorious-sounding pretext is found to justify the shift—racial harmony, European peace, a fair shake for women. In a global age, judicial review is a tool that powerful people expect to find in a constitution, in the same way one might expect to find a hair dryer in a hotel room.
Most commentary on Brexit dismisses those who sought it as fantasists and the Parliament that debated it as a madhouse. "Bungle" is the favored verb in most articles on the subject, which generally explain that Britain's difficult winter and spring illustrate what a misbegotten idea Brexit was in the first place. The Dutch diplomat Frans Timmermans, a veteran E.U. commissioner involved in negotiations, told the BBC that his British counterparts had been "running around like idiots." European Council president Donald Tusk said, "I've been wondering what the special place in hell looks like for those who promoted Brexit without even a sketch of a plan of how to carry it safely." Washington Post columnist Fareed Zakaria said in March, "Britain, famous for its prudence, propriety, and punctuality, is suddenly looking like a banana republic as it makes reckless decisions, misrepresents reality and now wants to change its own self-imposed deadline."
But the reasons for the chaos of the past winter—and for the fact that Brexit has still not happened—lie elsewhere. Brexit is an epochal struggle for power, and an exemplary one. It pits a savvy elite against a feckless majority. There have been scares before for those who run the institutions of global "governance"—the rise of Syriza in Greece, with its attack on the common European currency, the election of Donald Trump, the nation-based immigration restrictions put forward by Italian interior minister Matteo Salvini and Hungarian president Viktor Orbán. But it is Brexit that has hit bedrock. If Brexit happens, our future will look one way. If not, it will look another. Those people who warn, as Zakaria does, that voting for Brexit has decreased Britain's importance in the world—are they joking?
Only when the Leave side won the referendum did it become clear that the vote had been about not just a policy preference but also an identity. It raised the question for each voter of whether he considered himself an Englishman or a European, and of whether it was legitimate to be ruled by one power or the other. As such it made certain things explicit.
The main legacy of the European Union in the past three decades has been the suppression of democracy and sovereignty in the countries that belong to it. We can argue about whether this is the main purpose of the federation, but suppression of self-rule certainly counts as one of its purposes. Extinguishing national sovereignty was E.U. technocrats' way of assuring that what Germany, Italy, and Spain set in motion in the 20th century would not repeat itself in the 21st. The architects of the Brussels order proclaimed this intention loudly until they discovered it cost them elections and support. The E.U.'s suspicion of nationalism is understandable. But its hostility to democracy is real.
The self-image of today's E.U. elites is still that of protecting Europe from its historic dark side. They are confident history will regard them as the fathers of a Common European Home. In the imaginary biography he carries around inside his own head, a British builder of the European Union, whether a human rights lawyer or a hectoring journalist, will cast himself as one of the righteous heroes of his time, one of the enlightened. He is a man who "stood alone" to "fight for his principles" and so on. Maybe posterity will even see him as a European James Madison.
Many people in all member states have sought to puncture this kind of "Eurocrat" self-regard, but Britain's anti-E.U. intellectuals have been particularly direct and pitiless. In mid-July, Robin Harris, a longtime adviser to Cold War Prime Minister Margaret Thatcher, wrote an article in the Telegraph urging Boris Johnson to carry out "a peaceful but revolutionary seizure of power by the British people from a supranational authority and a home-grown but deracinated, collaborationist elite."
Imagine how it strikes a man who has spent decades working for the E.U. dream—Tony Blair or Donald Tusk, for instance—to see his work likened to "collaboration." Special place in hell, indeed! Those who sought the Brexit referendum placed a proposition before the British electorate that these self-styled architects of "Europe," these idealists, had been, all along, not Europe's Madisons but its Quislings. Worse, when that proposition was placed before the British people, they assented to it.
The British Fight for Liberty
Brexit was not an "outburst" or a cry of despair or a message to the European Commission. It was an eviction notice. It was an explicit withdrawal of the legal sanction under which Brussels had governed Europe's most important country. If it is really Britain's wish to see its old constitutional arrangements restored, then this notice is open to emendation and reconsideration. But as things stand now, the Leave vote made E.U. rule over the U.K. illegitimate. Not illegitimate only when Brussels has been given one last chance to talk Britain out of it, but illegitimate now. What Britons voted for in 2016 was to leave the European Union—not to ask permission to leave the European Union. It is hard to see how Britain's remaining in the E.U. would benefit either side.
And yet, given that Britain is the first country to issue such an ultimatum, given that pro-E.U. elites in other European countries have reason to fear its replication, given the moral ambitions of the E.U. project, given that the British who support Remain have transferred their sentiments and their allegiances across the channel, given the social disparity between those who rule the E.U. and most of those who want to leave it, how could the reaction of Britain's establishment be anything but all-out administrative, judicial, economic, media, political, and parliamentary war? The battle against Brexit is being fought, Europe-wide, with all the weaponry a cornered elite has at its disposal.
It has proved sufficient so far.