From Globe and Mail 'This is a project that would unify all Canadians': Calls to reconsider Energy East pipeline
A pro-Energy East pipeline rally was met with a counter-protest Friday afternoon in Halifax, with both sides vocal about their position.
"I'm here today because I'm concerned about climate change and the impact that the Energy East pipeline would have on climate change," said Emma Norton.
The proposed Energy East pipeline was cancelled last fall but some are hoping government will reconsider the project.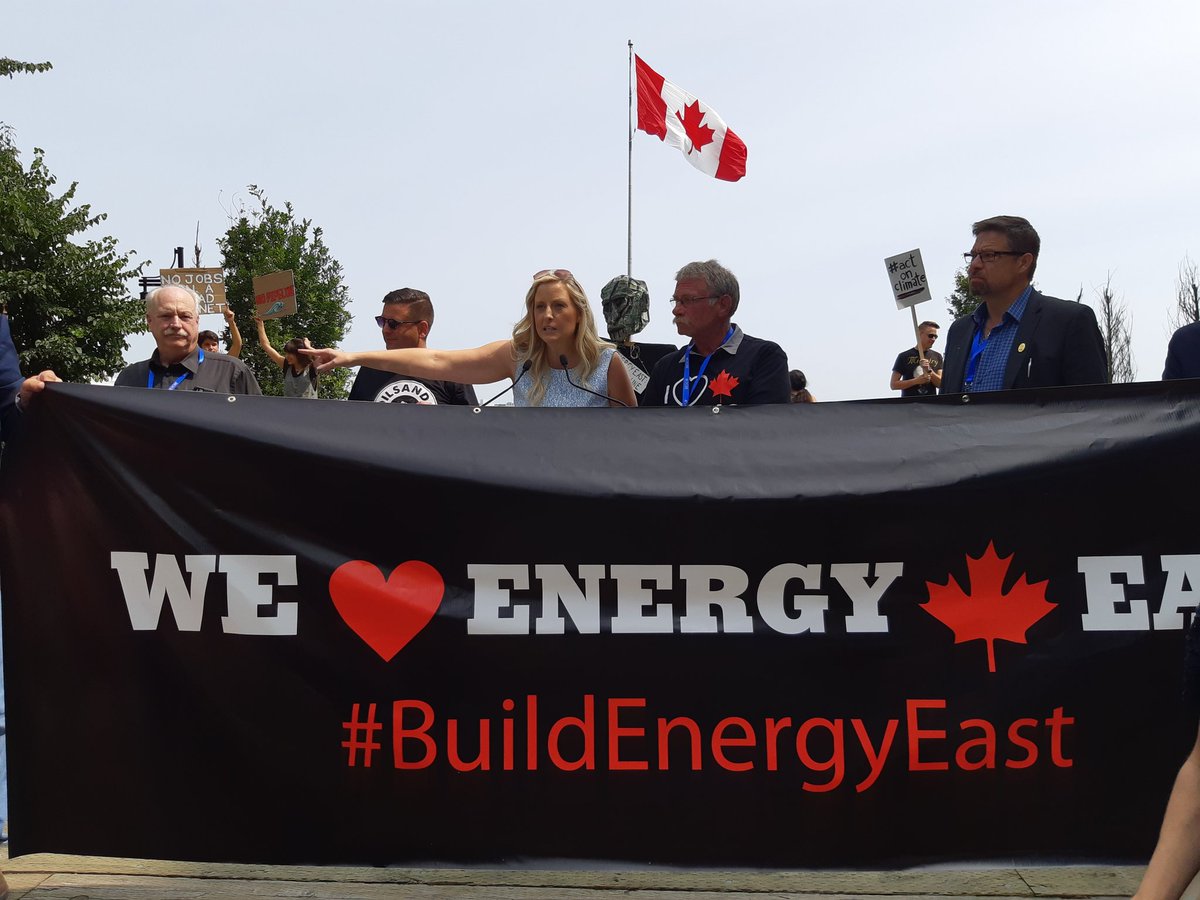 Those in favour of the project say Canada has the highest environmental standards of any major oil and gas producer in the world and want to see more Canadian energy.
"Saudi Arabia, Russia, Iran are not going to ship one less barrel of oil if Canada shuts down our energy industry so it's not a choice about oil or no oil, the global economy has a growing global demand for oil and gas," said Jason Kenney, leader of the United Conservative Party in Alberta.
"The question is whether Canada produces more of that or if we let the Saudis and these other dictatorships monopolize global energy markets. That's not good for the environment, that's not good for the globe."
Susanne Sexton is with the group that organized the pro-Energy East rally and says Canada needs jobs.
"This is a project that would unify all Canadians and when tax dollars and those workers are going to be hired to build this and people that are pulling the resources out of the ground, they're building schools, they're building hospitals, they're providing money to go into social problems to provide to our elderly and our least able to care for themselves. Why are they against that?" she said.
Those against the project say they're concerned about the potential environmental risks.
"The message is that we cannot build pipelines. We cannot continue to extract fossil fuels from the ground because they contribute to climate change and that's a very urgent issue that we need to address," said Norton.
Background: How Climate Pipedreams Killed Energy East
From Financial Post I helped plan Energy East, and I know the government's excuses are bunk The former head of TransCanada's pipeline strategy says Canada cannot afford to ignore the lessons of Energy East's demise by Dennis McConaghy. Excerpts in italics with my bolds.
I was a senior officer of TransCanada Pipelines when the Energy East project was conceived and developed commercially, up to the mid-summer of 2014 when I retired (I continue to be a shareholder but obviously I am no longer a company insider).
Two things are clear to me. One: the termination of the Energy East project is a major economic loss for Canada, removing an important option for providing market access for growing production from Canada's oil sands resource, including direct access to eastern Canadian crude oil markets. Two: The Trudeau government should be stepping up to accept some real culpability for contributing to TransCanada's decision to abandon the project, instead of resorting to various sophistries and distortions. The real lessons to be learned from the Energy East termination cannot be ignored if this country is to ever have a regulatory and public-policy regime conducive for private capital to take on the risks of major hydrocarbon infrastructure.
The vast majority of the $1 billion in Energy East development costs went to pursuing regulatory approval.
Understand some basic facts about this project. It was conceived and developed as an all-Canadian route-alternative to access not only domestic crude oil markets in eastern Canada but also to gain tidewater access to other global markets for Canadian oil sands production, that would not otherwise be accessible. Moreover, it would convert existing underutilized gas-pipeline capacity between Alberta and eastern Ontario, thereby providing significant competitive advantage. The project successfully gained support from a diverse group of Canadian production interests, even as other pipeline projects such as Keystone XL, Northern Gateway and the Trans Mountain expansion were already in advanced stages of development, including pursuit of regulatory approval.
Since TransCanada first filed with the National Energy Board in late 2014, the project has had to cope with litany of regulatory dysfunctions ranging from protracted information requests beyond the initial filing, recusal of the original NEB panel to be replaced by a panel of limited pertinent regulatory experience, failure to use the existing regulatory record prior to the recusal, inadequate security arrangements for attempted public hearings and, worst of all, the recent decision to "re-scope" the issues to be addressed in the hearing itself.
From when TransCanada first conceived this project internally in late 2011, accumulated development costs have exceeded $1 billion, the vast majority relating to the pursuit of regulatory approval. No private sector entity would ever have expended such a vast amount of capital seeking regulatory approval if it had known the dimension of the regulatory and political risk.
The last straw was the re-scoping decision taken by the current NEB panel, and supported by the Trudeau government. This decision concerned whether carbon emissions generated by the production process of the oil to be moved by Energy East were consistent or not with Ottawa's carbon policy. To be clear, these are not emissions generated by the Energy East pipeline directly, but are emissions TransCanada is not responsible for. The real issue of course is whether incremental crude oil production in Canada is consistent with national carbon policy. That is not an issue to be dealt with by regulators but rather by democratically elected politicians.
Dennis McConaghy was formerly the executive vice-president of pipeline strategy and development at TransCanada Pipelines.
The French Connection in the Sabotage
There is plenty of evidence that Quebecers, collectively, did everything they could to stand in the way of Energy East, which was to cross Quebec territory.
A campaign by the Montreal Metropolitan Community, a regional organization of municipal politicians representing more than 80 area cities and towns, opposed the project on the ground its risks far outweighed its benefits.
Quebec contributed to the regulatory overkill that ultimately sunk the $15.7 billion project. It piled on with its own list of conditions. As Fournier himself puts it in his letter, the province "adopted seven principles to examine the Energy East project, the same principles Ontario adopted, inspired by those of British Columbia."
Quebec's hostility to Energy East came in other ways, too. TransCanada had to cancel plans for a second marine terminal for Energy East at Cacouna, Que., to allay community concerns about impact on beluga whales. The NEB hearings on Energy East were suspended after violent protests in Montreal. Eventually the whole review went back to square one and was beefed up to win back public trust. The inclusion of upstream and downstream climate change impacts this summer ultimately became the regulatory overreach that went too far.
Now the Political Climate is Changing
Quebec's sabotage of Energy East is not surprising considering the two-term Premier joined the province into California's cap-and-trade scheme. He was also keen to be photographed with Al Gore at the Paris COP. What is new is a parliamentary election on October 1 with the opposition leading in the polls. Meet the man committed to action rather than pipedreams. Source: Globe and Mail. Excerpts in italics.
François Legault, the man who has a serious chance of becoming the next Quebec premier and arguably the most conservative one in at least 50 years, has spent nearly as much time as a professional politician as he did a business executive.
He seems genuinely surprised at the suggestion "businessman" would take second place to "politician" on his résumé. He starts doing the math out loud on what came after he founded Air Transat.
"I started in politics in 1998. I was 41. So that's 21 years in business, 18 in politics? Remember, I took two years off in there," he says in an interview, exhaling in relieved self-affirmation. "For me, I'm still more a businessman. I'm more a pragmatic guy. I like economics and finance. Those are the main reasons I'm in politics."
Mr. Legault is a bit fussy about labels. He doesn't like to be called a federalist, even if he believes Quebec's place is within Canada. He wants to limit spending, cut taxes and immigration levels and seriously improve the business environment in Quebec, but denies he's all that right-wing.
Now, with 10 months until the next election, the 60-year-old Mr. Legault may be on the cusp of getting his hands on some economic levers. Three polls in a row have showed him in first place.
The PQ is polling a distant third and has set aside the promise of a quick sovereignty vote. "At each and every election, the ballot question ends up being on the sovereignty of Quebec," Mr. Legault says. "For us, it's clear. Our project is within Canada. This will be the first election in years that the real issue will be a worn-out, corrupt government, not the sovereignty of Quebec."
Mr. Legault was raised in the western Montreal suburb of Sainte-Anne-de-Bellevue where his father was the postmaster and his mother a part-time cashier at the A&P store. He is married and has two sons in their 20s; he says he can still compete with them on the tennis court but "only for about 20 minutes."
He studied accounting and worked as an auditor and in finance before borrowing $50,000 in 1986 to help found Air Transat. He cashed out with $10-million when he entered politics 12 years later. "The reason I can be independent today is because of business," he says.
And now from the Montreal Gazette Let's revisit Energy East and get Canada off Saudi oil  Our limited  capacity to move oil to the east and west coasts is costing us billions, and transferring large chunks of that cash to despots.
Canada's spat with Saudi Arabia raises an obvious question. Why is Canada, sitting on the world's third-largest oil reserves, importing some 87,000 barrels of oil per day from Saudi Arabia, a country with a terrible civil rights record?
Saudi Arabia is some 9,625 kilometres from Quebec, where Saudi oil is imported to Canada. Wouldn't it be nice if Eastern Canada got its oil from a democratic country with an excellent record on civil rights and environmental protection, like, say, Canada? It wouldn't be hard. A simple pipeline would completely obviate Canada's need to import oil from the Middle East.
TransCanada's proposed (now cancelled) Energy East pipeline would have carried Canadian oil over about 4,500 km, using mostly existing pipeline capacity currently used to transport natural gas from Alberta to Ontario and Quebec. With a capacity to carry 1.1 million barrels of oil per day, the pipeline would have dwarfed what Canada imports from Saudi Arabia (not to mention Algeria's 85,000 barrels per day and Nigeria's 74,000 barrels per day). So what happened to it?
In October 2017, TransCanada withdrew its application from the National Energy Board (NEB) for the proposed $15.7-billion Energy East and Eastern Mainline pipeline projects — about five months after the NEB announced the government would consider "upstream" and "downstream" greenhouse gas emissions in the project evaluation process. The new rule targets greenhouse gases emitted during oil production (not transportation) and after the oil leaves the pipeline and is refined and consumed (again, nothing to do with oil transportation).
Two studies by the Canadian Energy Research Institute (CERI) document the potential benefits of building Energy East. In 2014, CERI estimated the project would generate an additional $34 billion to the GDP, an additional 321,000 one-year/full-time equivalent jobs across Canada in construction and operation, and an additional $7.6 billion in total tax revenues for Canada. In a 2018 report, CERI models the costs and benefits of displacing imported oil with Canadian oil. This "made in Canada" scenario estimates refinery cost-savings of $23 million per year while displacing 100 per cent of foreign oil. CERI also estimates that using Canadian oil rather than imported oil would lower greenhouse gas emissions by 2 million tonnes of carbon-dioxide equivalent per year.
In any sane world, Canada, with oil reserves estimated at 171 billion barrels (10 per cent of the world's total reserves), would not need to import oil from foreign powers with strong records of religious oppression, gender oppression, international destabilization, public beheadings and other activities Canadians shouldn't support with their oil and gasoline purchases.
Rather than looking at the failure of Energy East, and simplifying (and clarifying) environmental assessment to invite investment in such projects, the Trudeau government took an already onerous and somewhat arbitrary environmental assessment process and made it even more so. The government's new criteria for energy projects includes consideration of "gender" impacts and use of the "traditional knowledge" of Aboriginal people. Neither of these requirements lends itself to rigorous definition.
Canada's limited capacity to move oil to the East and West Coast is costing Canadians billions of dollars per year, and transferring large chunks of that money into the hands of despots. Our governments must do whatever's needed to break Canada's oil transport bottlenecks.
Aside:  Loading Upstream and Downstream GHG emissions onto Pipeline Environmental Assessments
The was the argument used by Trudeau government to destroy the Energy East pipeline.  The same gambit is used by US activists attempting to prevent pipeline approvals issued by the Federal Energy Regulatory Commission (FERC).  The article linked below gets into the details, but traditionally a project such as constructing a pipeline was assessed on the environmental impact of its installation and operation.  Climatists have pushed and in instances succeeded in arguing that the fuels flowing through the pipeline cause climate change by emissions generated in the production beforehand and consumption by end users and must be estimated before approving.
During the Obama administration FERC with majority Democratic appointees blocked pipelines on this basis.  But now majority Republican appointees are taking the traditional more narrow scope, leaving out GHG calculations before and after transport along with Social Cost of Carbon (SCC).  In fact, FERC has no jurisdiction to regulate sites producing or burning fossil fuel products  The legal pushback is strenuous as noted in this article from The Legal Intelligencer FERC's Hard Look at Pipeline Construction and GHG Emissions.
Summary
Winds of energy pragmatism are starting, but whether they can blow down the believers' house of cards remains to be seen.  "The Force is Strong in Them,"  unfortunately.