Deroy Murdock writes in The American Spectator This Opinion Just In… Baby It's Cold Outside Excerpts in italics with my bolds and images.
I might be slightly less hostile to the Green New Deal, had I not walked home the other Sunday in a hail storm. Even before the BB-sized bits of ice came shooting down from the heavens that morning, this winter has been brutal, from Gotham to the Golden Gate.
Our Lady of Perpetual Limelight, Saint Alexandria Ocasio-Cortez, demands that America battle so-called "deadly, manmade global warming" as if it were Nazi Germany. Ten-year cost: $93 trillion. But this supposed threat somehow seems less menacing than Adolf Hitler and the Wehrmacht.
Any given winter does not equal "climate." Still, if mounting concentrations of carbon dioxide are the broth in which we homo sapiens are poaching ourselves like so many salmon cutlets, then we should not be enduring the entirely contrary scenarios that have unfolded so vividly from coast to coast:
• A "bomb cyclone" last week slammed the Rockies and Midwest with hurricane-speed winds and abundant snowfall. As 97-MPH gusts struck Colorado Springs, marooned passengers huddled in horror inside a shuttered Denver International Airport.
• At this point in 2017, Lake Superior was just 7.3 percent covered in ice; 2018's figure: 49 percent. Lake Superior was 94 percent iced over on March 8. This was the first time in four years that the largest Great Lake's ice coverage exceeded 90 percent, the Detroit Free Press reported. Not so far away, Lake Erie was 20 percent ice a year ago. Today: 94.1 percent. Overall, the Great Lakes have gone from 27.8 percent ice in 2018 to 74.6 percent in 2019.
• Lake Erie recently experienced a sort of frozen tsunami, as huge chunks of wind-blown ice washed onto the shore at Hamburg,New York. Footage of this phenomenon is fascinating and terrifying, especially as the solid water violates homes, marinas, and other structures in and around the lake.
• Several polar vortexes pumped Arctic air into the Midwest and parked it there for days. This drove air temperatures to 22 degrees below zero in Chicago and minus-28 Fahrenheit in Minneapolis on January 30.
• Snow hit Las Vegas on February 17 and 19, with some 5.5 inches of the white stuff fluffing the peaks of Sin City's western suburbs. Some 100 flights were canceled at McCarran Airport on only the second day in two decades that it received measurable snow.
Drew Johnson, a transplant from Tennessee to Vegas's western hills, told me: "I moved to Las Vegas specifically to avoid long, dark, cold winters with snow and freezing temperatures. I thought global warming was supposed to mean shorter, warmer winters. Man, have I been ripped off. Instead, we're getting regular snowstorms in Vegas." He blames, in part, his former neighbor in Nashville. "It's tough to take the Al Gores of the world seriously when schools are closed for snow in Las Vegas, and kids are sledding and building snowmen."
• The State of California has been more white than golden lately. "For the first time in at least 132 years, the temperature didn't hit 70 degrees in downtown Los Angeles in February," the Wall Street Journal editorialized on March 4. "Snow powdered the hills of West Hollywood and Malibu," the Journal added. Last month, downtown Los Angeles saw snow for the first time since January 1962. Santa Barbara Airport logged its all-time record low of 33 degrees.
• The Sierra Nevadas repeatedly have seen avalanches swamp mountain roads. Last year's early-March snowpack was just 19 percent of normal levels. On Tuesday, the Central Sierra snowpack reached 164 percent of normal.
"Open for skiing through July 7," Lake Tahoe's Squaw Valley USA/Alpine Meadows resort announced last week, after February became its snowiest month on record. "Thanks to nearly 600" [50 feet] of snowfall, we are once again going to have Tahoe's longest spring season. In fact, we'll be skiing right into July this year. Make your spring and summer skiing plans today."
Summer skiing? How, exactly, does so-called "global warming" trigger summer skiing?
Temperature gauges aboard space-based satellites have recorded average global temperatures on Earth that peaked in 1997 and then slid or flat-lined from there. A quick, El Niño warming spike broke this "pause" in 2015-2016, followed by declining average readings. This virtual absence of observed warming led Greenpeace's Steven Guilbeault to explain: "Global warming can mean colder, it can mean drier, it can mean wetter, that's what we're dealing with."
Perhaps suspecting that such authentic frontier gibberish was not — as the Greens say — sustainable, the government-control-hungry Left ditched their "global warming!" battle cry and instead screamed, "Climate change! Climate CHANGE! CLIMATE CHANGE!" This nebulous phrase is magically self-confirming. The absence of global warming disproves global warming. However, the absence of climate change is nothing that should worry the alarmists since the climate always changes. It has done so since the dinosaurs ran this place. So, warming equals climate change. Cooling equals climate change. Droughts equal climate change. Floods equal climate change.
How convenient!
Meanwhile, the giant, deadly Camp Fire that killed some 86 people in and around Paradise, California, last fall "proved" that so-called "global warming" is fueling fatal fires in the West. Um, well, except that downed power lines ignited Camp and other big blazes, so much so that Pacific Gas & Electric filed for bankruptcy protection amid mounting lawsuits.
Did dry conditions fuel these blazes? Surely. California was in a drought. And now that's over, thanks to the state's snow-choked mountains. Apparently, these conditions can correct themselves, which refutes the Left's narrative of a steady, speedy, ski run into doom. Anyway, if not for the electric cables dangling from old towers, many of these fires would not have started. And clearing excess brush and some of California's 129 million dead trees makes much more sense than waiting for President Ocasio-Cortez to install high-speed trains from San Francisco to Honolulu, after she bans jumbo jets in 2025.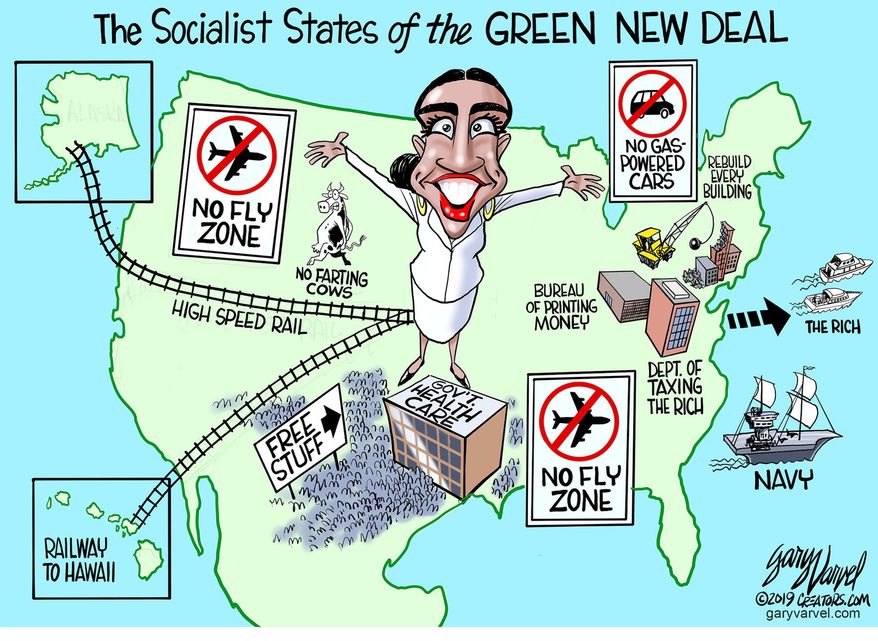 But wait. Before Americans surrender our Boeing 787s, New York Strip steaks, national prosperity, and sacred honor, wouldn't it be nice if some serious scientists determined whether we will boil over or freeze to death?
Fortunately, President Donald J. Trump will decide soon whether or not to proceed with the Presidential Commission on Climate Science. The PCCS's goal is to take a sober, scientific look at the warmists' claims. In January, Saint Alexandria prophesied that "the world is gonna end in 12 years if we don't address climate change." Catchy slogan, but does science confirm her hypothesis? Why not find out?
Many on the warming-alarmist Left oppose such intellectual inquiry. They attack the PCCS since "the science is settled." Of course, it's not settled. Like a lioness in heat, this debate roars on.
Indeed, the PCCS is the ideal venue for the final showdown between the Alarmists and the Deniers. Here is the chance for scientists who are 97 percent confident of Earth's imminent meltdown to make fools, once and for all, of Sallie Baliunas, John Christy, Paul Driessen, John Droz, James Inhofe, Bjorn Lomborg, Pat Michaels, Lord Monckton of Brenchley, Marc Morano, Fred Singer, Roy Spencer, Mark Steyn, and all the other scientists and policy experts who deny that cataclysm is just around the corner. And yet the Alarmists spurn such a confrontation. Methinks they doth protest too much.
Instead, the Green New Dealers are pushing Trump to ditch the PCCS and embrace "the climate consensus" — complete with swelling subsidies, sweeping regulations, slower growth, and slumping prosperity for (nearly) all, and a stunning bonanza for the fortunate few in the solar and wind sectors.
If this sounds like a raw deal, please call the White House comment line at 202-456-1111 and say so. Send President Trump a message by clicking here. Ask him to preserve and staff the Presidential Commission on Climate Science and order it to decipher this frigid warming.
Deroy Murdock is a Manhattan-based Fox News Contributor, a contributing editor at National Review Online, and a senior fellow with the London Center for Policy Research. Michael Malarkey furnished research for this opinion piece.
See Also: Cold Waves and CO2
No, Cold Doesn't Disprove Warming, Nothing Can
Stop Fake Science. Approve the PCCS!