Update: Oct. 2  The Dr. Yo video has been blocked.
"This video has been removed for violating YouTube's Community Guidelines."

The video Is New COVID Drug Molnupiravir Better than Ivermectin? can be seen here:
https://odysee.com/@yodoctoryo:d/is-new-covid-drug-molnupiravir-better:9
Reuters reports October 1, 2021 Merck pill seen as 'a huge advance', raises hope of preventing COVID-19 deaths. Excerpts in italics with my bolds.
Co will seek U.S. approval for pill as soon as possible
If approved, would be 1st oral antiviral COVID-19 drug
Merck shares rally, some vaccine makers fall
U.S govt agreed to buy 1.7 mln courses at $700 each
An antiviral pill developed by U.S. drugmaker Merck & Co (MRK.N) could half the chances of dying or being hospitalized for those most at risk of contracting severe COVID-19, with experts hailing it as a potential breakthrough in how the virus is treated.
If it gets authorization, molnupiravir, which is designed to introduce errors into the genetic code of the virus, would be the first oral antiviral medication for COVID-19.
"An oral antiviral that can impact hospitalization risk to such a degree would be game changing," said Amesh Adalja, senior scholar at the Johns Hopkins Center for Health Security.
"This is going to change the dialogue around how to manage COVID-19," Merck Chief Executive Robert Davis told Reuters.
Existing treatments are "cumbersome and logistically challenging to administer. A simple oral pill would be the opposite of that," Adalja added.
The results from the Phase III trial, which sent Merck shares up more than 9%, were so strong that the study is being stopped early at the recommendation of outside monitors.
(considered unethical to withhold it from placebo group)
Merck says it can deliver 10MM doses of the new drug, called Molnupiravir, by the end of the year, by which it should be approved by the FDA and possibly foreign regulators as well (the wheels of bureaucracy are reportedly turning as quickly as they can). Merck is submitting an emergency application for authorization of the drug, and we may see it in use during the next two weeks. The regimen is 2 pills a day for 5 days, and it's most helpful within 5 days of infection.
[Comment:  Does that pill and regimen sound familiar?   It should, it's called Ivermectin.]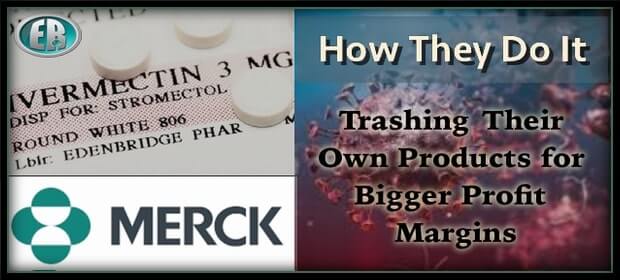 The back story comes from Blaze Media Merck rejects ivermectin for COVID treatment after getting $1.2 billion gov't contract for expensive, unproven drug.  Excerpts in italics with my bolds.
On Feb. 4, 2021 Merck came out with a shocking statement warning against the use of ivermectin to treat COVID. The statement claimed there was "no scientific basis for a potential therapeutic effect against COVID-19 from pre-clinical studies" and that there was "a concerning lack of safety data in the majority of studies."
This was quite a bizarre assertion given that 59 studies, including 30 randomized controlled trials, have shown the drug to be extremely effective at all stages of the virus.
The statement regarding safety concerns was even more ludicrous given that nearly 4 billion doses of this drug have been dispensed for parasitic ailments, it won the Nobel prize, and it is listed among the WHO's most essential drugs. There is no logical reason why someone would somehow begin experiencing dangerous side effects if he happens to use ivermectin for COVID instead of for scabies or river blindness.
Nonetheless, Merck's statement served as a strong blow to the use of ivermectin, because Merck was a large dispenser of this drug. After all, why would the company dump on its own drug?
Well, now we have an answer. On June 9, Merck announced that it had entered into a procurement agreement. Merck will receive approximately $1.2 billion to supply approximately 1.7 million courses of molnupiravir to the United States government. Molnupiravir is a new drug Merck is currently evaluating in a Phase 3 clinical trials to serve as the wonder drug to treat COVID. The estimated cost of the drug per treatment is $700!
So now we can understand why the company would swap out its own drug that has already been proven safe and effective for something new and experimental. Without the government sending a penny to Merck, I can buy a lifesaving dose of ivermectin for just $26 through GoodRX.
Comparing Molnupiravir and Ivermectin
What is particularly disturbing is that it appears that molnupiravir contains some of the same molecular qualities as ivermectin, which makes you wonder if Merck knows that ivermectin is effective and just sought a more expensive drug that could be marketed as exclusive and new for COVID, thereby justifying another budget blowout by Washington policymakers.
One of several antiviral qualities to ivermectin is that it disrupts viral RNA-dependent RNA polymerase (RdRp) enzymes. Two Italian doctors in a study published in Nature described the process as follows:
The RdRP residing in nsp12 is the centerpiece of the coronavirus replication and transcription complex and has been suggested as a promising drug target as it is a crucial enzyme in the virus life cycle both for replication of the viral genome but also for transcription of subgenomic mRNAs (sgRNAs) [34]. Ivermectin binds to the viral rdrp and disrupts it. The highly efficient binding of ivermectin to nsp14 confirms its role in inhibiting viral replication and assembly. It is well known that nsp14 is essential in transcription and replication.
Dr. Pierre Kory, the president of Frontline Covid19 Critical Care Alliance and one of the most prominent advocates of ivermectin, believes that the new drug developed by Merck acts in a similar way.
Dr. Syed Mobeen, who hosts a daily medical show and often hosts Dr. Kory for discussions about COVID treatment, told me that "it seems that molnupiravir is a copy of one of Ivermectin's mechanisms."
"This mechanism is to disrupt the SARS-COV-2 virus' RNA-dependent RNA polymerase (RdRp) enzyme," said Dr. Mobeen, who runs a medical education center. "Copying this mechanism will give Merck a way to earn from an existing cheap drug's action by relabeling it; however, I believe that molnupiravir will continue to be less effective as studies show that ivermectin has more mechanisms to disrupt the SARS-COV-2 replication and spread.
Hence, ivermectin will continue to be a superior choice over molnupirivir or other RdRp disrupters."
Summary:
Thus, with ivermectin,  a non-invasive, cheap, and safe drug that doesn't require one to lock down or wear a mask, we could largely solve the problem. Why would the medical establishment not take yes for an answer?
Now we know, in the case of Merck, there are 1.2 billion reasons why not. For some of the larger special interests, that number is exponentially higher and is all backed by the Fed's printing press and guaranteed by the media they have paid and influenced. Welcome to science and medicine.