Zachary Stieber writes at Epoch Times 47 New Biden Administration Defendants Named in Government–Big Tech Censorship Lawsuit.  Excerpts in italic with my bolds.
Nearly 50 new government defendants have been added to the lawsuit that alleges the government induced censorship of state officials and others on social media.
The second amended complaint in the case, Missouri v. Biden, includes six new agencies, bringing the total to 13, and 41 new individual defendants, bringing the total to 54.
Altogether, 67 officials or agencies are accused of violating plaintiffs' First Amendment rights by participating in a "censorship enterprise" through pressuring Big Tech firms like Facebook, Google, and Twitter to take action against users offering alleged misinformation.
Evidence backing the claims has been produced in discovery, including exchanges between White House officials and Meta, Facebook's parent company and messages showing meetings between administration officials and the firms.
The new defendants include the FBI; former White House senior COVID-19 adviser Andrew Slavitt; Dana Remus, counsel to President Joe Biden; Elvis Chan, an FBI special agent based in San Francisco; Janell Muhammed, deputy digital director at the Department of Health and Human Services; Allison Snell, an official at the Cybersecurity and Infrastructure Security Agency; the Food and Drug Administration (FDA); the State Department; and Mark Robbins, interim executive director of the U.S. Election Assistance Commission.
One or more of the Big Tech firms that were subpoenaed in the case identified the officials as possibly communicating with them on content moderation relating to "COVID-19 misinformation," the New York Post's story about Hunter Biden's laptop, the administration's since-disbanded Disinformation Governance Board, and/or "election security, integrity, outcomes, and/or public confidence in election outcomes (not to include issues of foreign interference or related issues)."
Slavitt was named because emails show he was in communication with Facebook regarding the combating of alleged misinformation. The messages show that Facebook was committed to censoring and de-emphasizing posts that were "departing from the government's messaging on vaccines," plaintiffs said. Slavitt also called for Twitter to ban Alex Berenson, an independent journalist, previously released messages show.
Muhammed, meanwhile, was in touch with Facebook to ask the company to take down pages and accounts that were allegedly misrepresenting themselves as representing the government. "Absolutely," one of the Facebook employees responded.
Other discovery suggests the FDA "has participated in federally-induced censorship of private speech on social media about questions of vaccine safety and efficacy, among other subjects," plaintiffs said.
The agencies that were added to the case did not respond to requests for comment.
U.S. District Judge Terry Doughty, a Trump appointee overseeing the case, recently ordered defendants named in earlier complaints to comply with demands, including Dr. Anthony Fauci, a top medical adviser to Biden. The new documents do not include any more information from Fauci or the White House press secretary's office.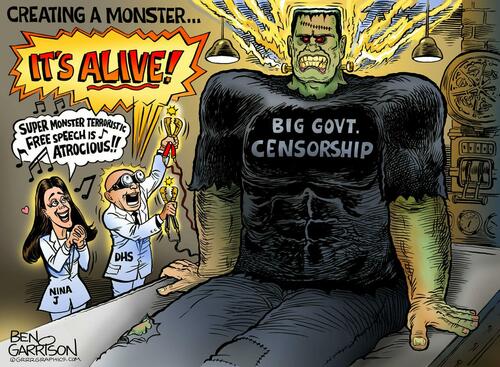 Footnote: 
From Your news: Biden Admin Showered Millions On Government's 'Misinformation' Czars After 2020 Election
The four groups in question – Stanford Internet Observatory (SIO), the University of Washington's Center for an Informed Public, the Atlantic Council's Digital Forensic Research Lab, and social media analytics firm Graphika – comprise the "Election Integrity Partnership," which exists as a 'concierge-like' service for federal agencies such as Homeland's Cybersecurity Infrastructure Security Agency (CISA) and State's Global Engagement Center to flag online content for censorship or monitoring by Big Tech using a "ticket" system.
Unsurprisingly, the head of Stanford's Internet Observatory is a Clinton donor who previously served as Facebook's Head of Security – while the University of Washington's Center for an Informed Public is largely funded by the Knight Foundation, whose board exclusively contributes to Democrat or Neocon entities. 
Meanwhile, the Biden administration empowered three liberal groups to file tickets seeking censorship; the Democratic National Committee, Common Cause and the NAACP.