https://www.bitchute.com/embed/ukmtlokiGHRr/
H/T Palmer Foundation (here) for transcript synopsis, printed in italics with my bolds.
A Nigerian-born and trained physician, Dr Stella Immanuel, is trending on social media after delivering an impassioned COVID-19 speech in the U.S.
That was until U.S. President Trump retweeted it. Now the video is being removed from all over the internet. Facebook has gone so far as to completely remove her account.
Speaking at a news conference in Washington, Immanuel claimed that antimalarial drug, hydroxychloroquine, zinc, and antibacterial drug, Zithromax, were effective cures for the virus.
She said she had successfully treated no fewer than 350 patients with hydroxychloroquine, zinc, and Zithromax.
The following are excerpts of Immanuel's speech:
"Hello, I'm Dr Stella Emmanuel. I'm a primary care physician in Houston, Texas.
"I went to medical school in West Africa, Nigeria, where I took care of malaria patients, treated them with hydroxychloroquine and stuff like that.
"So I'm used to these medications. I'm here because I have personally treated over 350 patients with COVID-19. Patients that have diabetes, patients that have high blood pressure, patients that have asthma, old people … I think my oldest patients are 92 … 87-year-olds.
"And the result has been the same. I put them on hydroxychloroquine, I put them on zinc, I put them on Zithromax, and they're all well. For the past few months, after taking care of over 350 patients, we've not lost one. Not a diabetic, not a somebody with high blood pressure, not somebody who asthma, not an old person.
"We've not lost one patient. And on top of that, I've put myself, my staff, and many doctors that I know on hydroxychloroquine for prevention because by the very mechanism of action, it works early and as a prophylaxis.
"The study that made me start using hydroxychloroquine was a study that they did under the NIH in 2005 that says it works.
"I know you're going to tell me that you treated 20 people, 40 people, and it didn't work. I'm a true testimony. So I came here to Washington DC to tell America nobody needs to get sick.
"This virus has a cure. It is called hydroxychloroquine, zinc, and Zithromax. I know you people want to talk about a mask. Hello? You don't need a mask. There is a cure.
"I tell all of you doctors that are sitting down and watching Americans die. You're like the good Nazi … the good one, the good Germans that watched Jews get killed and you did not speak up.
"If they come after me, they threaten me. They've threatened to … I mean, I've gotten all kinds of threats. Or they're going to report me to the bots.
"I say, you know what? I don't care. I'm not going to let Americans die. And if this is the hill where I get nailed on, I will get nailed on it. I don't care.
"And today I'm here to say it, that America, there is a cure for COVID-19. All this foolishness does not need to happen. There is a cure for COVID-19.
My Comment:
Dr. Immanuel is not alone, and was speaking along with a group of frontline doctors who have had similar experience as Covid caregivers.  There are those already dismissive of HCQ treatments, unless and until there is incontrovertible double blind large scale trials.  In fact the bad press exaggerating HCQ risk factors makes recruiting trial volunteers nearly impossible, and maybe that was the intention. Of course also being an evangelical preacher is an easy target for cancellation, despite her being an outspoken black woman.
One negative reaction came from Nigeria, Dr Stella's COVID-19 treatment claim unproven, mere speculation, medical directors insist.
Abuja, July 28, 2020 The Guild of Medical Directors (GMD) has reacted to video claims by Dr Stella Immanuel, a General Practitioner (GP) in the U.S. that she has treated over 350 patients of COVID-19 with combination of Hydrochloroquine (HCQ), Zinc and Zithromax, saying it is her own personal, unsubstantiated claim.
In a statement seen by Naija247news from the President of GMD, Prof. Olufemi Babalola in Abuja on Tuesday, the doctors said "there is no scientific evidence to prove the claim."
The guild president noted that while some studies suggested that it was effective, others felt otherwise.
He added that "it is true that Senegal, where HCQ is routinely used, has one of the lowest COVID-19 case fatality rates in the world at 0.64 per cent compared to 3.4 per cent in the U.S.
"As we speak, a study is underway at Lagos University Teaching Hospital (LUTH) on its efficacy and safety. Subsequently, a meta-analysis of all these studies should be undertaken to pool all the results and come up with analysis which will guide clinicians.
"So, until then, all anecdotal claims such as the one from Dr Stella Immanuel must be taken with a pinch of salt."
[Meta analyses have been published and are ongoing.  See HCQ Proven First Responder to SARS CV2]
[Others in Nigeria are not so dismissive: NEWSCOVID-19: Nigeria takes delivery of 7-tons of hydroxychloroquine from India]
The observation about Senegal also shows why the HCQ treatment is worth pursuing.
Consider this chart produced in early June.
Now that is only suggestive, not proven association because inter-country comparisons have many complicating factors, and case fatalities change over time and with greater data collected. Still, it indicated that places that use HCQ routinely appeared to have lower lethality compared, for example, to Europe which mostly followed WHO's position discouraging HCQ.  Other national experiences are compelling:
Algeria – Started using Chloroquine in late March. Results came very soon
According to one infectious disease specialist, "near-total effectiveness."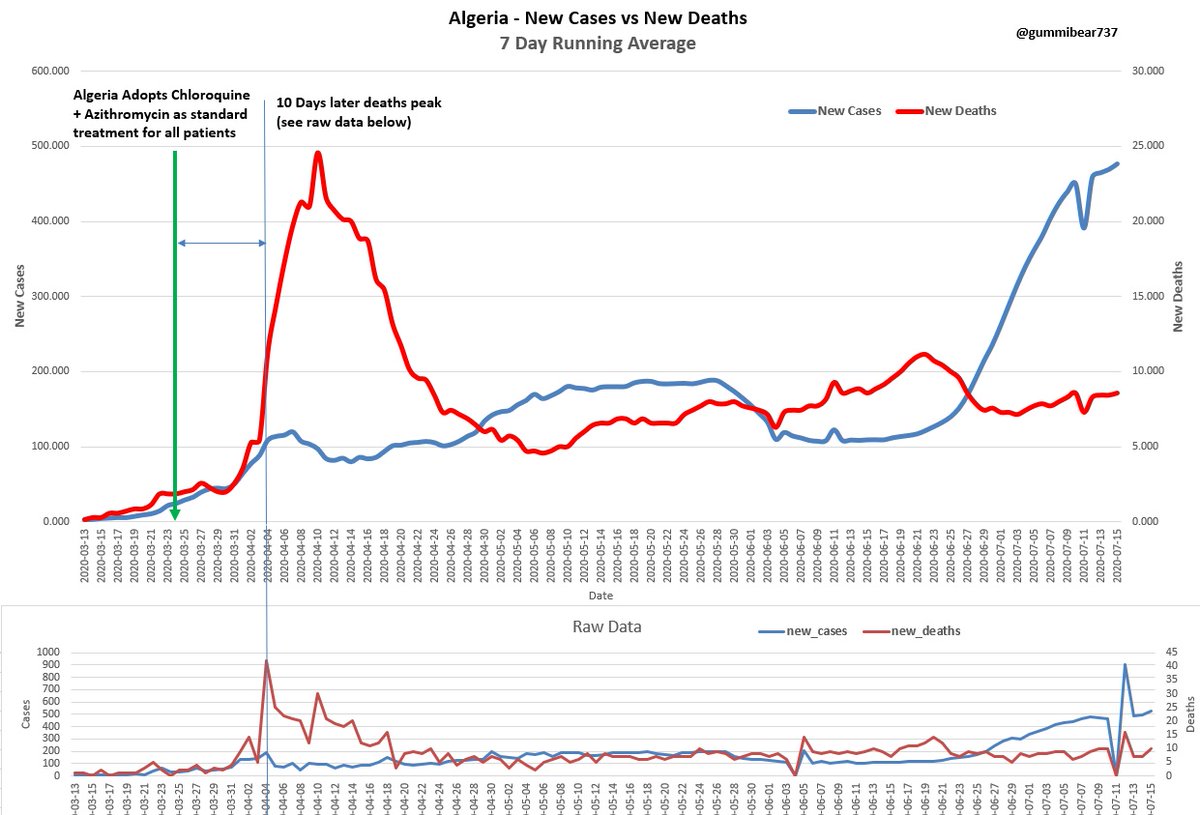 Morocco – Also started treating in late March
Again, almost immediate results
Fun fact: more people have died of COVID in the Moroccan diaspora than in Morocco! Think about that for a second…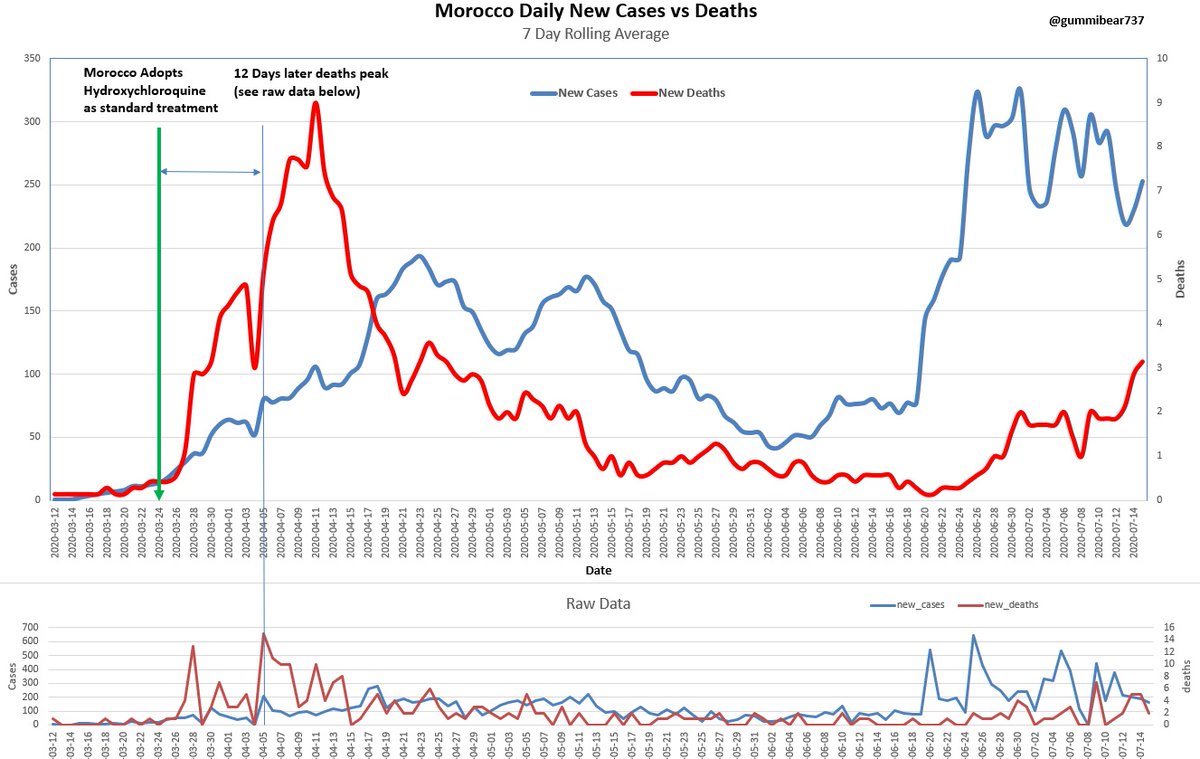 Conclusion:
Yes, they will go after Dr. Immanuel and cancel her if possible.  But this is much bigger than her.
For more charts and discussion of HCQ and Covid19 see My Hydroxychloroquine Deep Dive